spicy dry-fried long beans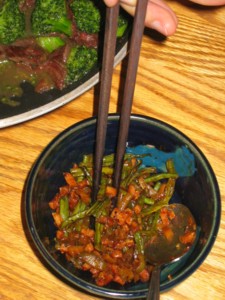 We grew long beans in the garden this year, because tallasiandude likes them (i do too, but duh). The first few batches I cooked in nonstandard ways, like with chopped walnuts and walnut oil -- which were yummy, but not scratching tallasiandude's itch. So I started cooking them chinese-style, but the first couple of attempts failed: they weren't the flavors he was looking for. We saw a plateful in a restaurant that looked right, so I used that as the basis, and I've finally come up with a recipe that we both like a lot. I don't know what I'm going to do when I don't have fresh long beans in my backyard anymore. Oy.
It's a pretty adaptable recipe, as it turns out, and can handle substitutions & variable quantities pretty well:
Take some chinese long beans, cut into bite size pieces (or you can use regular green beans) and fry them over fairly high heat in a very little bit of oil. When they've started to blister and soften, add some ground pork and break it up as it fries. You can also substitute finely diced ham, like I did tonight because I didn't have any more pork in the freezer. The proportions don't matter -- be guided strictly by your preference or what you happen to have. Sprinkle with black pepper. Once the pork is cooked, sprinkle with about a teaspoon of sugar. Take about half a 3.5 oz packet of pickled turnip/salted spicy radish, or however much you like, cut it into small bits, and add it. (Not sure how to specifically describe this stuff, except that it is the stuff you get in pork & pickled turnip noodle soup. Use whatever salty pickly chinese turnip stuff you like.) Add about a tablespoonful of spicy bean paste, and stir to blend. (There's a whole other post to be written about spicy bean paste, which I'm sure we'll get to eventually.) Add about a teaspoon of chinese black vinegar, and stir it around to distribute it before it evaporates. When it's dry and looking ready, serve it. Add salt if it needs salt (probably will if you used pork, and won't if you used ham), and chili oil if it needs more spiciness. You definitely want white rice with this, as it's pretty savory stuff.
This has become my favorite companion dish for Pei Mei's beef & broccoli, which is very rewarding to cook because it makes tallasiandude so happy. *grin*
Posted by foodnerd at October 1, 2004 09:39 PM