the mystery of restaurant baked potato
Have you ever wondered how they get baked potatoes in restaurants to be so deliciously simple, and to have that magically sturdy crust that you can scrape every last starchy morsel out of? I have. And now I know.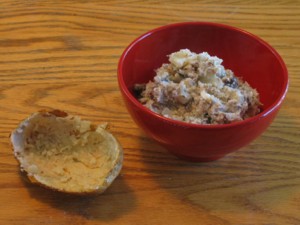 I was baking some russets (good ones from the farmer's market, bonus) and I forgot to really time them, so I was paranoid about raw innards, so I left them in there for like 80 minutes at 400F. I went to poke one & test it, and the skewer was rebuffed -- for a second I thought it was raw. But no, just sturdy: when cut open, they were just as fluffy and gorgeous as the ones in a steakhouse. And crust, my god, there is crust. Which is perfect for what I was going to use them for: Baltic Stuffed Potatoes, from what has to be the Funnest Cookbook Ever.
Bake big potatoes as above, cut open in such a way as to leave nice potato cups, scrape out insides. Saute finely diced onion and wild mushroom (dried, fresh, whatever) in butter. Smash a can of smoked sprats (usually available in Russian or Slavic markets, and sometimes regular supermarkets) to smithereens with a fork. Mix all of this together with some chopped dill (or whatever herb, i had no dill so used parsley & thyme), ground pepper, salt, a couple tablespoons fresh lemon juice, and enough sour cream to get the party started right.
You're supposed to stuff that back into the potato shells and put a little parmesan and bake at 375F till nice & golden, but I couldn't handle it and just macked it down out of a bowl. I'll put a picture up later on, though it's not very photogenic. Yum! Seriously -- even if you don't really like canned fish, you'll like this: sprats have a nicer flavor than sardines, and that flavor goes *really* well with mushrooms and butter and sour cream and potato. Not kidding. Try it.
Posted by foodnerd at October 7, 2004 01:49 PM