meatfest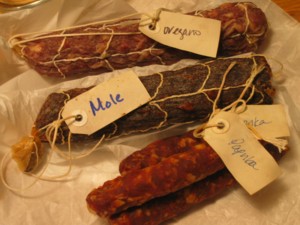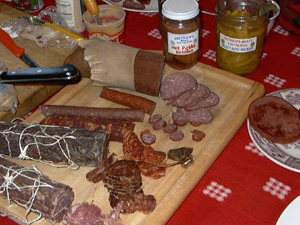 In my family, we don't usually cook much for Christmahanukwanzaka. Instead, we hunt and gather for delectable morsels and then graze all day long on smoked fish, spendy cheese, cured meats, and other cocktail-time treats. This year was no exception, and my brother came through with the goods: fabulous fatty smoked sockeye from Washington State, a trio of the finest salumi on earth, and a stash of Pennsylvania Dutch treasures.
The salumi is the handiwork of Armandino Batali, proprietor and genius host of Salumi in Seattle. He makes his own cured meats, both in traditional Italian styles and in creative new flavors like lamb prosciutto and vanilla salami. This year's selection was perennial-favorite oregano salami, mole salami with deep dark choco-mexi-spice, and some spicy paprika sticks. My brother used to work down the street and ate lunch there a few times a week, and every year he brings meat presents from Salumi for us back east. (The restaurant makes the best Italian food I've ever had anywhere, but it's only open for lunch. Plan ahead.)
The Pennsylvania Dutch stash was mailordered from Dietrich's Meats. Left to right in the photo, after the salumi on the far left, there's sweet & spicy stix, Lebanon bologna (a super-smoky beef treat, oh yeah), spicy pickled bologna, mustard bean pickles (really good, on the very short list of best pickles ever), and pork roll fried to a crunchy goodness.
It's been a very happy holiday. Slurp.





Posted by foodnerd at December 25, 2004 11:50 PM