quality you can taste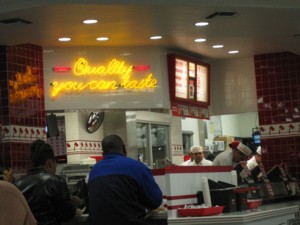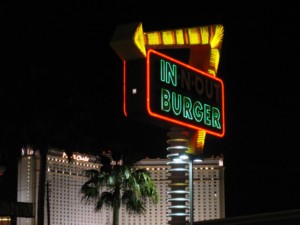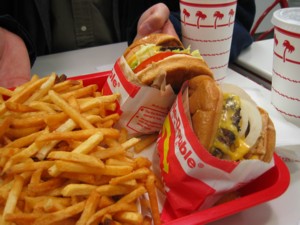 I know it's already well known, but I am so in love with In-N-Out burgers that I have to say it again. These are the best burgers EVER. They are perfect. They are simple and sublime. And the reason they are so perfect is that they are made with real ingredients, gotten fresh every day, and they are not tarted up to be something they are not. The people who make them do not screw around with fish or chicken or salad; they make burgers and fries and nothing else. These burgers are so good I am even willing to overlook the fact that the company is owned by people who feel the need to put scripture on the burger-wrappers.
I had had exactly one In-N-Out burger up until this last trip to LA, and I was counting the days until I got another. I drooled with anticipation, even as we spent our days slurping up one fantastic asian meal after another, followed by a fancy spendy dinner and some exquisitely foofy pastries (more on these to follow). And finally, on the last night of the trip, in Las Vegas, I got my burger on. Oh yeah.



















Posted by foodnerd at January 22, 2005 06:22 PM