pizza, sort of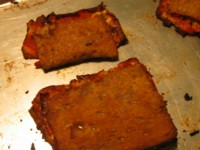 I dug out the Trader Joe's whole wheat pizza dough from the freezer today, and so my heart got set on pizza for dinner. Per tallasiandude's pizza preferences and the fact that we had long-leftover pepperoni in the fridge, I made pepperoni & mushroom 'za. Several things were learned:
1. Cento San Marzano passata crushed tomatoes make a fantastic pizza sauce if you sprinkle it with salt, pepper, oregano, a tiny bit of basil, and garlic powder. A lazy girl's dream.
2. Don't use an insulated cookie sheet, and do be sure to heat up the pan before putting on the dough if you can. Otherwise you get soggy bottom crust. And then you have to put two pieces on top of each other, douse them in olive oil, and rebake them like faux calzones, flipping the sandwiched pizza lumps to crisp up both crusts. Oops. Still tasted good.
Posted by foodnerd at March 11, 2005 07:20 PM