post-race feed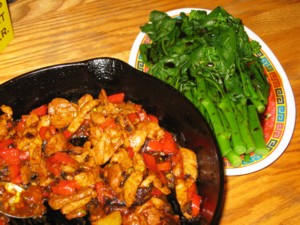 tallasiandude ran a half-marathon this morning, and for various reasons didn't manage to eat well the rest of the day. Meanwhile I happened to go to the Super 88 Market downtown with my parents and nabbed some good stuff. So I made yu hsiang pork (out of Pei Mei volume I) and chinese broccoli, and a double batch of rice. The pork was nice and spicy-salty, and I put in thin-sliced wood ears and red peppers just for texture and extra flavor, which worked well. I love yu hsiang dishes even in crappy restaurants, so I think this one is going into regular rotation along with the beef & broccoli recipe. The chinese broccoli, which has to be one of my favorite vegetables, was just blanched and drizzled with oyster sauce mixed with a little soy sauce to thin it down.
8-10 oz pork, boneless, cut into thin strips
2 tbsp wood ear
half a red bell pepper
1 tbsp soy sauce
1 tbsp corn starch
vegetable oil to fry
2 tsp chopped ginger (I used 4 small slices)
1 tsp chopped garlic
sauce:
1 tbsp chopped green onion
1 tbsp soy sauce
1 tbsp black chinese vinegar
1 tbsp hot bean paste
1/2 tbsp shaoxing wine
1 tsp sugar
1/2 tsp salt
1 tsp cornstarch
1 tsp sesame oil
1/4 tsp black pepper
Marinate pork in 1 tbsp cornstarch & 1 tbsp soy for 15 min. Soak wood ear in warm water 15 min, then cut out & discard hard stemmy parts, then slice thin. Dice pepper. Mix up the sauce and let stand. Heat a little oil quite hot in a wok or skillet, fry the pork just until not pink, and remove to a plate. Add a bit more oil and fry the pepper, wood ear, ginger & garlic for a minute or so, scraping the pan if necessary. Add the pork back in along with the sauce, and fry until the sauce thickens a bit. Serve with lots of rice.
Posted by foodnerd at March 13, 2005 07:16 PM