ham-scallion-parmesan mini cakes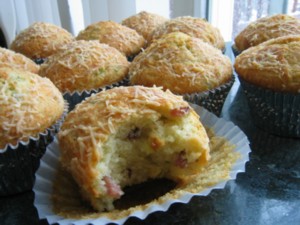 I love savories. I'll take salty over sweet every time. So when I saw parmesan muffins in Gourmet a few months ago, I figured that might be an easy but festive thing to make for xmas gifts for littlelee & spleen. They came out cute, with their shaggy shredded topping, and they seemed to go over well, but I never got to taste one. So when IMBB went cupcake, I knew I had to make the recipe again. But this time, I embellished.
I had scallions left over from a fit of chinese cookery, and there was some ham end as well, so I diced them up small and used them in place of the rosemary in the original recipe. The muffins themselves came out quite light, and have an almost cakey texture, so I think of them more as little savory cupcakes rather than muffins, which I normally find rather dense and hefty. I took this batch over to some friends' house for a brunchtime visit to their new baby, and we ate them with a bit of cheese and fruit for a light meal. This recipe is staying in the repertoire -- it's quick and easy, and what's not to like about adorable little cheesy pastries?
2 eggs
3/4 cup milk (I used 1%)
1/2 cup e.v. olive oil
1 cup grated parmesan (I of course used extra, and subbed romano)
1.5 cups all purpose flour
2 tbsp sugar (I may skip the sugar next time & see if they are even more savory)
2 tsp baking powder
1/4 tsp baking soda
1 tsp finely chopped garlic (about one large clove)
1 tsp finely chopped fresh rosemary (i subbed 1-2 finely chopped scallions and about half a cup of finely diced deli ham)
3/4 tsp salt
1/2 tsp black pepper
Preheat 350F. Whisk eggs, milk & oil. In another bowl, whisk half the cheese or slightly more than half with all other dry ingredients, then add wet ingredients to dry. Whisk to blend. Line 12-hole muffin pan with paper liners and divide batter among them. Top with the rest of the cheese. Bake 20-25 minutes until tester comes out clean and tops are nice and golden. I checked mine at 20 min, and thought they needed 1 or 2 more minutes; they were a bit pale on top and the tester was clean but moist. But cleverly I neglected to put the timer on and sat down to share a bit of tallasiandude's breakfast -- at least 5 minutes later I jumped up with a shriek and yanked them out of the oven, fearing a panful of cinders. But they were just nicely golden and crunchy on top, so I guess this recipe is pretty forgiving. *grin*
Posted by foodnerd at March 21, 2005 11:45 AM