arroz con pollo, peruvian style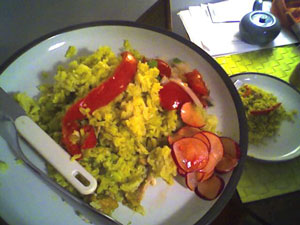 I am staying with my dear friend H in Chicago until I can find a place to live, and this Friday her husband J had some people over for an impromptu dinner, and for this he whipped up his signature arroz con pollo. Oh, yeah, yum yum yum.
He makes it with a whole bunch of cilantro pureed in the blender with a bit of water, and puts this in with the rice, the chicken thigh sauteed with onions & turmeric, the sweet red peppers, and the edamame (his twist on the usual peas). The whole thing comes out soft and savory and a most springlike yellow-green color. Comfort food at its finest, especially when paired with the incendiary tomato salad that H made to go with it. She makes this insane spice paste with vats of habaneros (perhaps I did not blog about the bagful of gorgeous orange ones she bought in October; she's already blown through those and this is a new batch), and she used a scant dollop of this to make the dressing for her tomatoes and onions. On its own that salad will send smoke out your ears, but mixed into the rice & chicken it's a lovely little zing to contrast with the soft moist starch. The radish salad was not an attack salad, but rather a nice tangy peppery crunch for texture. A lovely meal and a lovely evening.
Posted by foodnerd at April 9, 2005 10:22 AM