caribbean-american baking company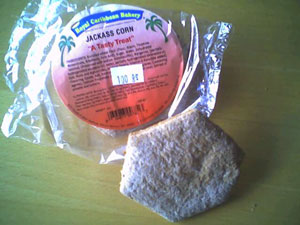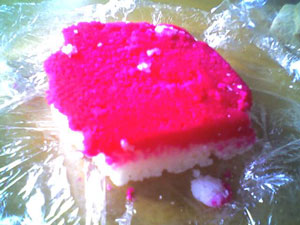 On the walk along Howard Street from my temporary dwelling to the el stop is a tempting bakery that has a huge selection of Jamaican treats. I got a pile of sweets to share with the office -- banana cake (tastes just like banana bread), sweet coconut bread (more truly a bread, with raisins in) -- and some other stuff for myself. Jackass corn had to be bought for the name alone, and turned out to be the lovechild of gingersnaps and graham crackers. They're really hard and crunchy, and I think they would be lovely with a cup of tea. Grata cake is a big brownie-size bar of the filling of a Mounds bar: grated coconut and sugar, with the top dyed hot pink. I *heart* grata cake.
It so happens that this bakery is apparently the only purveyor of jamaican patties in the city, and sells them to caribbean restaurants all over town. I got a bunch to share with H + J, and they were fabulous. The pastry is nice and flaky, not too greasy, and the beef filling is good and spicy, and the jerk chicken filling is just to die for yummy.
Posted by foodnerd at April 15, 2005 02:14 PM