road trip notes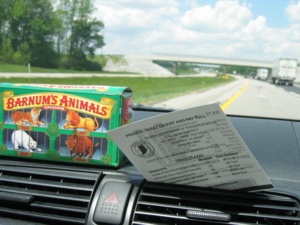 so in a whirlwind of activity, we packed the car full of stuff and headed west the Thursday before Memorial Day. we stopped at the foodnerd homestead to say hi to my mom, drop off white-cream donuts for dad, and acquire a bag of fresh asparagus from the family patch, and then drove straight through until 1:30am, with a few stops for ingestion & elimination along the way. We hit the road again at 8am, and pulled up in front of my apartment just before 3pm -- and managed to unload all the aforementioned stuff before the rain came.
A few highlights:
- i'm pretty sure we saw a bald eagle flying overhead somewhere in Ohio.
- Hardee's fried chicken is surprisingly good, considering.
- virtually all the cornfields we saw were fallow, full of last year's brown stubble. what's up with that? why wouldn't they be full of growing green by now?
- the Comfort Inn at Barkeyville, PA has really good free waffles, along with free wireless and soft beds. Who'da thunk it?
- we saw a lot of Ohio's finest along the way, but not even a glimpse of Indiana's finest. Weird.
- my mom packed us a crazy picnic of cheese and nuts and deviled eggs and animal crackers, and a showstopping platter of prosciutto-wrapped canteloupe. Awesome.
- wendy's now lets you have salad instead of fries in your burger meal. kinda cool, really.
- Dairy Queen kicks ass.
Posted by foodnerd at June 2, 2005 03:18 PM