eomeote 9: curried egg salad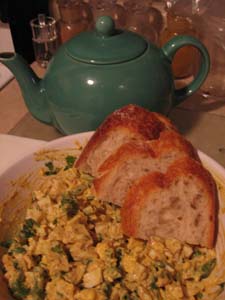 I read a recipe for curried egg salad somewhere recently that sounded good, but i couldn't lay my hand on it when it turned out there was no protein in the house save 8 eggs, so I winged it and came up a winner.
Of course, I have tried and tried to come up with a way to make this very tasty egg salad into a Harry Potter extravaganza, but I got nothing, even though I've just read the Half-Blood Prince and am struggling with the urge to read it again. This dish is delicious enough to have been conjured up for one of the Hogwarts banquets, but really I think the children tend to get rather heartier dishes from the house-elves than my poncy curried egg salad on toast. Since it's yellow and red when you include the tomato salad, I thought it might vaguely resemble Gryffindor colors, but that's a pretty lame stretch. It's curried, and therefore vaguely British, but that's even lamer. I'm an English major, and I love horrible puns, I should be able to do better than this. And having struggled with this now for longer than it took me to cook the dish and write it up in the first place, I'm beginning to think that perhaps requiring a theme is in fact antithetical to the original spirit of the EoMEoTE, the oh-fuck-it-I'm-broke desperation that spawned the genre. But as long as you let me whine on about the theme instead of actually being clever about it, just as you let me put my egg in the same room with the toast rather than actually upon it, then it all works out just as it should. *grin*
8 hardboiled eggs, diced
handful of cooked green beans, cut into bitesize bits
half a small red onion, diced fine
1 tbsp mayo
2 tbsp miracle whip
lots and lots of madras curry powder, to taste
black pepper
few shots of louisiana hot sauce
chopped cilantro
salt (save till the end, because once you get enough curry powder in there to make it taste of curry, you may not need any salt at all)
Mix all this together. Serve with toasted slices of sourdough bread and a sliced tomato salad. Serves 3-4 depending on hunger. Makes a very nice lunch or cold summer dinner, especially if made ahead and kept in the fridge.
Posted by foodnerd at August 3, 2005 05:33 PM