ed's potsticker house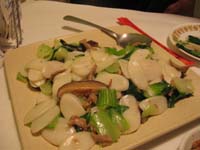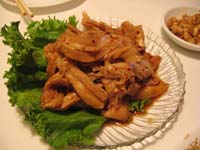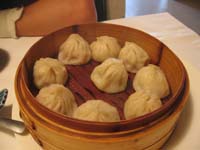 Tallasiandude is here for a visit, and I'm still on the quest to find an acceptable chinese restaurant, specifically a shanghainese restaurant. Ed's Potsticker House was reputed on LTHForum to have great soup dumplings, and some of the other dishes got raves as well, so we headed down there for lunch today. We had the soup dumplings, the house cigar-shaped potstickers, some pork belly in garlic sauce, and sauteed rice cakes with bok choy & mushrooms & pork.
All of it was decent, some of it was good, but none of it lived up to the raves, and none of it was spectacular. I am beginning to despair of the potential of finding chinese here as good as the stuff in Boston, New York or California. It makes me a little distrustful of the LTH reviews, but i have to remember to account for the fact that people usually only really know the eats in their own town, and can only make comparisons with what they know. I had no idea how good Boston chinese could get until I met tallasiandude, and he took me so much further past what I knew as "good" in Chinatown.
The rice cakes were pretty good, nice flavor in the bok choy, and the soup dumplings were fine but not as good as Wing's in Boston. The cigar potstickers had an odd sweet, almost cinnamony flavor in the meat, and the wrappers tasted like wonton wrappers -- i thought they were ok, tallasiandude was not a fan. The pork belly was nice, meaty & fatty with a sort of black bean-garlic lightly spicy sauce; we quite enjoyed it, especially with a bit of white rice. So yeah, a decent feed but not what we've grown accustomed to, alas.
Posted by foodnerd at August 14, 2005 09:02 PM