my brother is so cool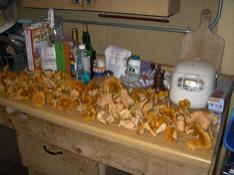 He has friends who give him freshly foraged chanterelles. And this is what they do with them:
"Favorite recipe of the
moment, in addition to dead ass plain:
Sautee over medium/high with no oil. Allow to cook in its own juices until
1/2 cooked. Add a tablespoon of butter and a splash of white wine. Reduce
by around 1/3, and add some heavy cream. Return to a simmer for a minute or
two. Salt/Pepper. Eat.
Made mushroom risotto and mushroom bruschetta so far. Pizza tonight, and
eggs tomorrow. We were fantasizing about northwest triple crown:
Chanterelle and crab stuffed wild salmon fillet. Or perhaps grilled wild
halibut smothered in chanterelles..."
Posted by foodnerd at October 18, 2005 10:07 PM