naha
C and I went to Naha last week [really it was early december, i'm lame. -fn], since we couldn't get a table at Topolobampo.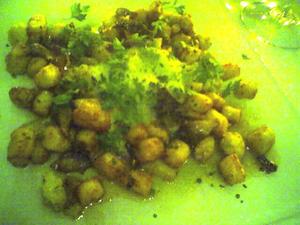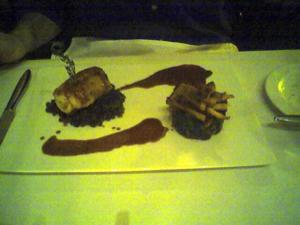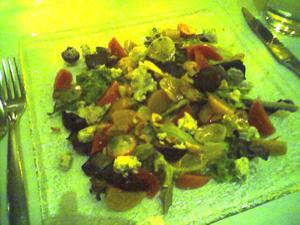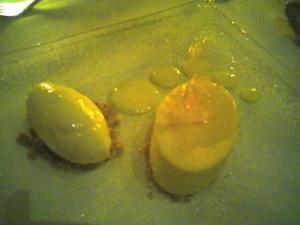 The space is beautifully serene, in a just-hip-enough sort of way, but it did make me think that it was carefully designed to be fashionable-but-bland in just the right way as to make your haute-couture outfit really stand out to best advantage. So, you know, not really my scene, but I can dig it, and the room dividers made of crazy branches stuck into planters were really great.
Our first courses were both terrific, my mixed-beet salad with blue cheese and C's romaine with red pepper & serrano ham. Simple but interesting on the tongue, and very well executed. We'd both had separate evenings of wretched, wretched meat-laden excess a few days previously, so we craved salad, rather uncharacteristically. :-)
The mains were less successful. The bay scallops were tasty enough, but a bit soggy of crust in their buttery sauce, and almost too rich, or too numerous. I like my scallops crusty and crunchy on their exterior, and nearly raw inside, and these little guys were perilously close to overcooked. Still, not a BAD dish, just not a raving success. C's dish was night and day -- a boring bland piece of monkfish sitting next to what may be the single most delicious bit of porkbelly I've ever tasted, and that includes the Tung Po pork i had in LA last year, which put me into paroxysms of joy. Weird, and we couldn't quite figure out what the idea was in combining the two.
The desserts all sounded good, but what i really wanted was the goat-cheese cheesecake from one item and the lemon-verbena icecream from another item. Being greedy and unwilling to compromise, I asked the waiter if I could combine them (I recognize that sometimes the kitchen has very specific quantities on hand and mix-matching can screw up the logistics). He came back and told me that the chef said I could mix them, but that he strongly recommended against it. As if I'd let THAT stop me. Pshaw. The two together were SO GOOD, two sides of a dairy coin, both light but creamy, one with a floral tartness and the other with a savory undertone. I think these might be on the menu frequently, since H had the goat cheesecake also on her trip to Naha, and loved it just as much. If you find yourself there, on a business dinner or a fancy date or whatever, the best way to proceed is to get a salad and the goat cheesecake (or the lemon verbena ice cream, or both), and a nice bottle of wine, and either ignore or laugh at the expensively-dressed yuppies all around you.
Posted by foodnerd at January 23, 2006 06:53 AM