Al's #1 Italian Beef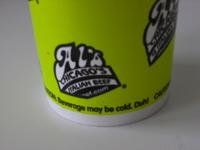 The tallasiandude is in town for a visit, and he arrived hungry. Since last time he was here we were thwarted in our attempts to get him an Italian beef sandwich, we thought that might be a nice little snack. Man-Jo-Vin was our first thought, but the phone's been disconnected and it seems like it's closed; dunno what happened there. Plan B was Al's on Taylor St.
I've had a couple of mass-market Italian beefs (*cough* Portillo's *cough*) since my initiation into the joys of that fine Chicago sammich at Johnnie's, and they were sad, dry, polite, pathetic echoes of the real thing. I was psyched about finally getting another sandwich from one of the acknowledged masters, and I was not disappointed. It's quite different from Johnnie's -- spicier, pepperier, fattier gravy, a heftier meatiness of flavor, and a finer chop on the giardiniera -- but just as good in its own way. It's kind of comforting, actually, that the stylistic difference is so pronounced, rather than one just being simply better.
Good homemade fries, good lemonade, and completely dumpy atmosphere. Perfect for huddling over the steel sandwich ledge, licking beef gravy off your hands as you make short work of that soggy, savory pile of bread and beef. And someone has a good sense of humor: look closely at the photo. Ha!
Posted by foodnerd at February 9, 2006 09:37 PM