the parents come to chicago; or, apple, not far from tree
My parents came to visit this weekend. The night they arrived, I dragged them out into the monsoon winds to try out a Friday night fish fry. I made the error of trying to go to the Duke of Perth, which was full of yuppies drinking beer and had a 90 minute wait, so I fell back onto the known winner and found the nearest JJ Fish instead, for the true urban fish experience. JJ Fish fries some DAMN good fish, in a cornmeal crust that isn't greasy *at all*, and the fish is fresh, and it comes with tangy hot sauce, and sits on top of squishy white bread. So it wasn't an official fish fry as such, but who cares about technicalities when you're stuffing your face full of crunchy whitefish and perch?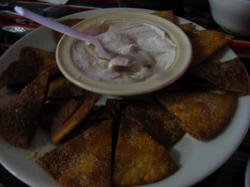 Over the weekend was my father's birthday, and we spent the day doing NOTHING that was not related to food. It was awesome. We had breakfast at Perez -- we got some machacado con huevos, my favorite shredded beef with scrambled eggs and onions and tomatoes, and dad had ham and eggs (and the entire bowl of pico de gallo, out of which he carefully picked all the bits of jalapeno and devoured before breakfast even arrived -- daddy likes his salady vegetables). Mom tends to eat sweets for brekkies, so she got a little bitty chile relleno taco just for form's sake, plus a plate of sopaipillas and a big glass of orchata. The sopaipillas seemed to be a flour tortilla deep-fried (cheating a bit, but we didn't really care) dusted with cinnamon sugar and drizzled with honey, served with a bowl of cinnamon-drenched sour cream. Which we licked clean.
Then we checked out the food wholesalers on Randolph between Halsted & Racine -- you can get locanico at Columbus Meat Market, Nicholas Meat Market has some tasty looking stuff, and there are cheap thermometers and various gizmos to be had if you aren't intimidated by the wholesale ambiance. And then we went down the street a bit and checked out Peoria Packing Company: a porkstravaganza without equal. This place was a mob scene. The parking lot was full. The shop was packed to the rafters with folks packing their carts with large amounts of fresh meat, cut to order ribs, smoked hocks or turkey legs, fresh hams with skin still on, dark red rib eyes (for absurdly low prices). You need ribs for a party, you go to Peoria Packing.
By this time of course it was time for lunch, so we went to Al's #1 Italian Beef, which was a big hit. Even beyond the savory meaty goodness, which any sane person would love, Al's puts big slabs of cooked green pepper on their sandwiches, which puts my father into nirvana.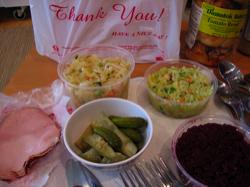 Then we drove out to Humboldt Park to check out some real estate, and then we went out to Avondale to the Polish markets. We went to Kurowski's which I'd been to before, a full-featured market with meat, fresh veg, prepared foods, and canned or jarred wares of all kinds. And this trip, also some pysanky eggs for easter, yay! (I used to make these when I was a kid; I still have the wax stylus somewhere or other.) On the recommendation of A Cook's Guide to Chicago, we tried Endy's Deli, aka Andy's, which assaults you upon entry with the glorious smell of sausages. Dear lord, it smells good in there. And they have a smorgasbord of delicious, dirt-cheap salads, kraut, beets, herring, and so forth, plus a hot case, plus a meat case full of smoked pork loin, fresh meats, sausages of all sorts, and unidentifiable things so tasty-looking I went ahead and bought 'em before I asked what they were. Turns out it's chicken meatloaf, and turns out it is fucking FANTASTIC.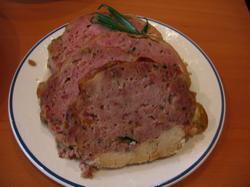 We ate all this stuff for breakfast the next day. Along with the four kinds of cream-laden cake we got at Pasieka bakery across the street. When you step into a bakery and you can't see any of the product because of the line of polish-speaking grandmas in front of the glass cases, you know it's gonna be good. We had a poppy seed cake with chocolate frosting and raisins, a chocolate-rose cake with red jello topping, a pineapple-coconut cream cake, and a poppy seed/coconut/mocha cream fantasia that was my absolute favorite.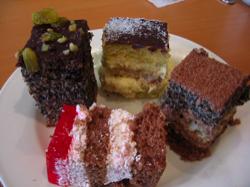 And then on the way home we stopped at one of the big Mexican supermarkets also on Milwaukee around Logan Square (Tianguis Supermercado) to eyeball all the goodies there, me yammering all the while about all the stuff I've learned to love while I've been living here.
By this time it was getting dark and we were tired, so we went home, collapsed onto the couch for an hour or so, and made reservations at Tre Kronor up north on Foster, to get my daddy some smoked herring (mmm, hewwing...) and whatever other scando-treats might be available here in the heart of the midwest. This is a tiny little place, homier than I was expecting, and boy does it have good food. The herrings are lovely, a pickled version and a mustard-sauce version, with hardboiled egg and salady bits to go with it. The Toast Skagen trumped even the hewwings, though, being a lavish mound of sweet chopped arctic shrimp in a dill mayo, accompanied by fresh tomato (decent even in winter) and a few slices of archetypal scandinavian cucumber salad, quick-pickled in vinegar and sugar. Mom wasn't terribly hungry (jeez, after a massive mexican breakfast and an italian beef and fries, I just don't see why) so she had a cup of onion soup and the crab cakes, both very tasty. I had swedish meatballs that were soft and tender and delicious in a light gravy with a pile of mashed potatoes and a ramekin of lingonberry sauce, and a whole DISHful of more cucumbers, be still my heart. Daddy had some of the best duck breast I've ever had, very simple but perfectly cooked and tender, with a lingonberry sauce.
And then we went home, gave daddy his birthday presents, and fell over into a dead sleep. Only to wake up and have at it again the next day, but I'll save that for the next post.
Posted by foodnerd at April 3, 2006 11:35 PM