how objects become treasures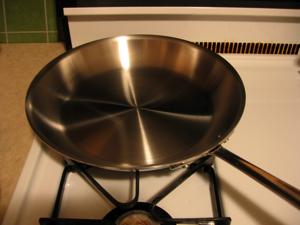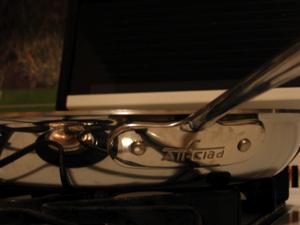 This is my new skillet. I love my new skillet. My parents dragged it in their luggage (and i do mean DRAG, sorry mom & dad!) all the way from Massachusetts to surprise me with it, for no occasion at all. I am tearing up just writing about it, because there's a lot of meaning tied up in this particular object.
I have wanted -- well, really, lusted in my heart for -- a 12" All-Clad stainless steel skillet for years now, but they're expensive and I've simply done without. It's on my list of "gifts I want someone to give me" and when my parents asked me what I wanted for Christmas this year, I sent them my list -- but I annotated the skillet with the note that they were not supposed to get it for me because it's expensive, and I mostly left it on the list as a funny ha-ha.
No skillet arrived from Santa, and I thought nothing of it until I opened the box my parents brought to Chicago and completely freaked out. I was thrilled, obviously, because now i have the BEST SKILLET IN THE WORLD, but there's more to it than that. I know my parents want to give me things and help me do the things I want to do, but there's not enough money for them to do that the way they would like to -- but by god they could get me a skillet I wouldn't buy for myself. And so I know that this skillet means as much to my parents to give as it does to me to receive, and that makes me so happy I'm about to cry. I will think of them with love whenever I cook in it.
Which is going to be all the damn time, woo hoo!! :-)
Here is a photo of its maiden voyage last night, in which I made a spanish tortilla out of leftover french fries from Al's and some spicy jarred peppers: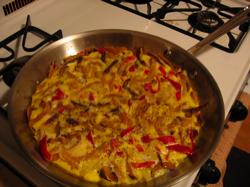 Posted by foodnerd at April 10, 2006 12:26 AM