brunches past & present
tallasiandude is visiting this week, and this morning - er, this afternoon - we went out in search of pancakes or waffles. Since I am mildly obsessing about Humboldt Park these days, i thought we might try out Flying Saucer, particularly since we drove past it last night on our way home from my new favorite bar, the California Clipper. (well-worn seemingly-original vintage art-deco bar, rockabilly-ish live bands, relaxed atmosphere, linoleum floor, pinups on the wall of the back room -- the only flaw is not having good bourbons on the shelf)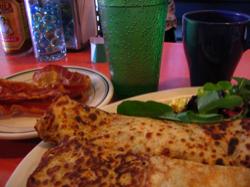 Anyway, I digress. Flying Saucer is all hipster vintage low-rent coolness, and the food is pretty good. The mesclun salads that come with things are very fresh and good, and everything was quite tasty, including the coffee, thank god. I had a cracked-pepper crepe stuffed with remarkably light scrambled eggs, ham, ricotta & asparagus, and tallasiandude had a "what would cheeses do?" omelet in honor of easter, full of more asparagus, cream cheese, swiss and i think cheddar, with home fries spiced up with some sort of spice powder that was clearly commercial but still tasted good. For dessert we had a small plate of the ricotta-stuffed french toast with strawberries & whipped cream, which was a mite dry but that didn't matter once the ricotta and cream and syrup got into the mix.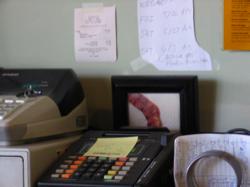 The best part, though, is the slice of bacon matted on a quilted paper towel, framed, and propped up next to the cash register. I am convinced that a cooked slice of bacon would keep just fine in a frame, but tallasiandude is doubting. If I ever open a restaurant, I am totally framing the first piece of bacon fried in my kitchen. That is badass.
And all of this has reminded me that the last time tallasiandude was here, we had brunch at Lula Cafe but I never got around to blogging it. That was another hipster-infested spot with extremely good food and annoying teacups. (The teapot fits into the teacup, which is very clever but causes the cup's handle to be in an awkward position, so every sip is either an acrobatic maneuver or you burn your fingers.)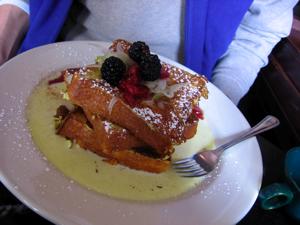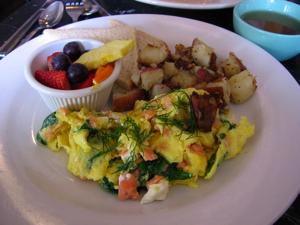 We had another stuffed french toast that day, this one insanely decadent in a pool of creme anglaise, and a delicate omelet of smoked salmon, cream cheese and dill. Very nice indeed, and the little flyer describing their valentine's day dinner offering sounded dreamier still, so i will try to go back for dinner sometime.
All of these things were very good, but I am still sad that the greasy spoon closest to my house, the one with the very good, very plain waffles and lovely thin strong diner coffee, has burned down and is no more. Sometimes you just want a nice, simple thing for brunch, without any foodieness and without any atmosphere.
Posted by foodnerd at April 15, 2006 03:51 PM