yosemite - ahwahnee dinner
Hedge wanted to have a fancy dinner in the Ahwahnee Hotel dining room, and I was totally down with that, so we dug out our civilization-togs and headed over. The food is okay, but under no circumstances is it worth the price tags put on it simply by virtue of being served in a gorgeous late-1920s grand lodge dining room.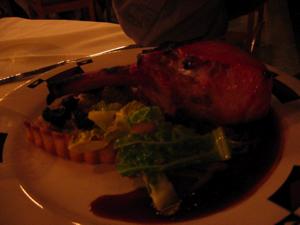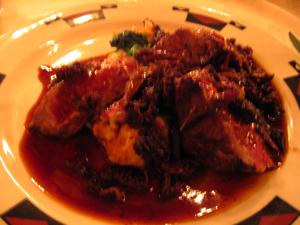 We had a caesar salad and a seared scallop on tomato for starters. Both tasted good, but the scallop wasn't very seared, floppy was more like it, and hedge sent hers back for more cooking since it was essentially raw (I didn't mind, I kinda like it that way). The mains were super-luxe in their descriptions but conceptually very much within the expectations of a wealthy but timid middle-american eater, and unfortunately weren't particularly well executed. Tallasiandude had a huge rich pork chop with an interesting and tasty savory tart and savoy cabbage alongside, but my Kobe beef with forest mushrooms was a weird presentation of pre-sliced meat (i don't want to say gristly but it wasn't what you'd call tender) piled onto garlic mashed potatoes, and the mushrooms (all morels) seemed like they might have been dried, which was sort of a drag considering it's springtime mushroom season. And considering the $35 price.
I sound very negative, and I guess I am, but i do think that at half the price, I would have been much less inclined to be so nitpickingly critical. Or perhaps if they would shoot just a bit lower, and actually hit the mark they intend... but it's a hotel dining room (probably run by an out of state catering company like the Curry Village dining options are), and I guess I'm now a hotel-kitchen snob: all my highfalutin restaurant dining of late is starting to show.
Posted by foodnerd at June 6, 2006 08:42 PM