meat presents from Fatted Calf
After the abortive attempt to visit The Fatted Calf at the Berkeley Farmers' Market on my trip to SF in March, thwarted by food poisoning which caused me to get to the market too late to find TFC anywhere about the place (i now know they sell out to the bare walls sometime around 1pm), I was hellbent on getting there this time around.
Ay caramba, Biggles, I see why you like this place!
I tried to let reason carry the day, but I couldn't help myself and I snagged around $40 worth of fucking amazing meat goodness. And on reflection, considering how delicious it all has been, that's pretty damn cheap, really.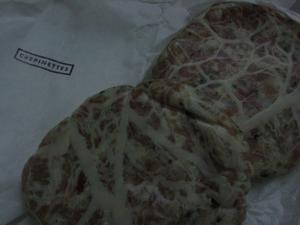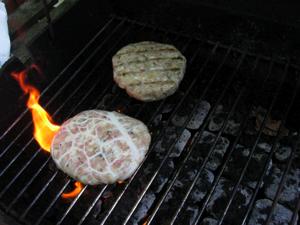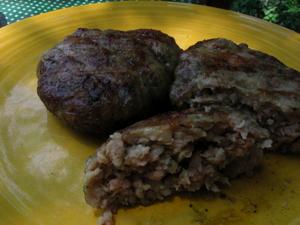 I got rabbit crepinettes with roasted shallot & thyme, because I had no idea what a crepinette was, but they sure sounded interesting, and who doesn't like rabbit with shallot & thyme? Turns out to be a sausage patty wrapped in a gorgeous netting of caul fat. Oh. My. God. I put these onto the grill, and they were so good. The taste is distinctly sausagey, but more delicate and sweet because of the specific ingredients. I could get very addicted to those for weekend breakfasts, yes indeed. (I must give credit to Sam for photo composition inspiration for the photo that came up when I googled "crepinette" -- hers came out much better, but I liked the idea of including the pretty label along with the pretty meat.)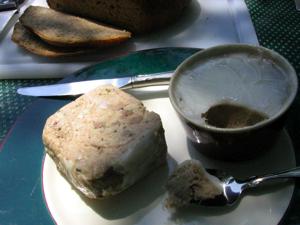 The rabbit pate is also delicate in the extreme, so delicate it was pretty well obliterated by the whole wheat sourdough bread I ate it with. I've started slicing off slivers late at night and eating them alone by the light of the fridge, which is working out much better, as it allows the quiet whisper of the sweet meat and herbs to hit the tongue clearly. I am not sure what companion I would give it in a more civilized presentation, but it would have to be something very understated indeed.
In polar opposite to this delicate creation is the robust pork rillettes, happily sitting under the veil of white fat in their stoneware crock, waiting to be scooped out onto that whole wheat sourdough that very well suits their spiciness and smooth yet meaty texture. Also good on Wasa rye crisps for breakfast with milky tea.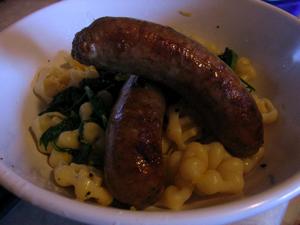 I got two confit duck legs, which I am hoping to use tonight in a dinner for my friends H & J. And I also got two calabrese sausages, thrown in as a lagniappe at the last minute when I picked up my goodies (as they were closing up shop) -- my friend MissLudmilla happened to mention that they were her favorite order at Top Dog, and our man at Fatted Calf scoffed and tossed her the last pack of calabreses, telling her if she'd try them, she'd never go back to Top Dog again. Heh heh heh. That's confidence in your product! Unfortunately, I took them with me back to Chicago by accident. I cooked them up in the skillet, and sliced them over pasta and sauteed greens and a bit of lemon zest. Fabulous. Lots of fennel, a bit of spicy pepper, and a rich almost gamey meatiness. Wow.
The thing that strikes me most is that all these products were so different stylistically, but all wonderfully well composed and well made. It is clear also, from seeing the market stand, and from reading Biggles's posts, that these people very much enjoy their work. And from the frenzy of purchasing that did not cease, I would say the people of the Bay Area rather enjoy that work as well. I sure as hell did. Yum.
Posted by foodnerd at June 8, 2006 06:55 AM