pork store!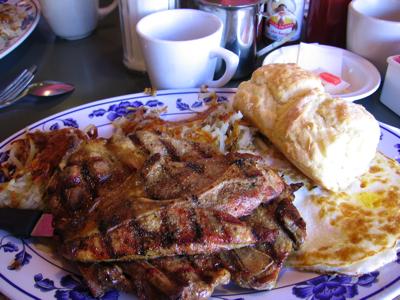 How can you not love a place called The Pork Store? It's so wonderfully to the point.
It is even more delightful when it in fact purveys very fine pork chops, browned perfectly and served up with extremely good hash browns, fluffy pale biscuits, eggs, and good coffee. Yeah, baby!
And when you can find such a place in the middle of all the madness of the trendy Haight, and consume those chops and coffee in the company of good friends new and old -- i was there with tallasiandude, MissLudmilla & MonkeyBoy, the Wandis, and Cindy from FoodMigration, plus her sweetie-pie Randy -- it may be as near as it's possible to get to the Platonic ideal of breakfast.
Posted by foodnerd at July 24, 2006 08:58 PM