upstairs on the square
Spleen really wanted to go to Upstairs on the Square for restaurant week, so we made reservations for the four of us: spleen, littlelee, tallasiandude and me. It is the foofiest damn restaurant space i have EVER seen, all pink patchwork and gold frippery and mirrors and swoopy couches, but I have to concede, the food is very good.
We did a 7-course tasting menu, one with wine pairing, and tallasiandude did some a la carte ordering which was awesome because then we could try even more dishes. Heh heh.
The raw oysters were very very good; i don't have the menu for those in front of me, but i seem to recall an asian pear garnish and yuzu mignonette. Yum.
The tasting menu started with roasted beets & arugula salad with horseradish panna cotta and passionfruit. This was the dish i most wanted to try, because it was going to either be insanely awesome or a horrific trainwreck. Happily it was even more awesome than I dared hope, and the sweetness of the passionfruit was perfect with the beets and against the sharp creamy-soft horseradish. Hubba hubba. (I believe I may have used those exact words to the waiter when he asked how things were.) For the wine nerds out there (hi, C!) I can actually report on the wines, since they are written down right here on the menu. 2005 Sauvignon Blanc, Hall (Napa); we liked it.
Then there was a ravioli of sweet english pea, with a few scraps of smithfield ham, pecorino romano & mint, which was delicious, but the peas decorating it were distinctly starchy. This is why I usually don't eat peas unless I have grown them, which makes me sad, because I absolutely love fresh peas. 2004 Dafni, Lyrarakis (Crete); this was awesome, and rather unusual -- i don't remember exactly how, but it would be cool to find this wine in a shop.
Somewhere in there tallasiandude had a bowl of wild mushroom tea, which was really a soup, but did I mention? FOOFY. The broth was just a hair salty, which di'nt bother me none, and really intriguing with lots of thyme and a solid punch of hot chile pepper.
Then we got a seared giant Nantucket sea scallop, with marinated grapefruit, crispy fried rounds of fingerling potato, and tarragon. The pictures all came out terrible because of the flattering (ie, barely-there) lighting, but this one i have to post, because it just barely almost conveys the insane electric-green hue of the sauce this dish arrived in.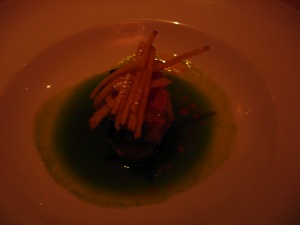 This neon pool was dotted with electric orange droplets, and the whole thing was completely bizarre and wonderful. The grapefruit and the tarragon and the rich buttery potato and the clean scallop flesh all worked together in a deranged harmony. 2005 Trebbiano, Masciarelli (Abruzzo); this was also extremely tasty.
Then there was a pomegranate lacquered duck breast, with a high-concept schmear of potato puree spiked with nutmeg, and a black truffle jus, which was as lovely as you might expect it to be. 2004 Merlot, Alexander Valley Vineyards. This was when we really started to notice the one main flaw with service: wine accompaniments were arriving well after the dishes, and though I couldn't give two shits, spleen really wanted to try the wines with the foods, go figure, and so things would be starting to get cold before she could really go to town. Does it not seem like the wine should always show up BEFORE, or at least with, a dish, and never after? Once is just shit happening, but this was every course, and therefore irksome.
Tallasiandude had a deconstructed beef wellington, which was really sliced steak with a bit of pastry and some duxelles paste underneath. Very tasty but mildly silly.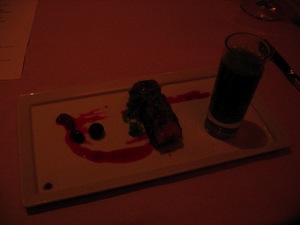 Then there was a foie gras brul&eacute on toast with a cranberry compote and a fantastic fresh-mint soda. I could have happily drank a whole glass of that minty soda, and it was swell with the ridiculous fattiness of the foie gras. 2000 Semillon, Chateau Coutet (Barsac) -- this may not have been the wine we had; one of them was swapped out and i can't remember which one.
There was a selection of artisanal cheeses, several of them Greek -- someone in that kitchen has a Greek fetish at the moment -- served with a 2000 Kotsifali, Mandilari, Lidakis Archanes (Crete).
And then for dessert there was a rhubarb compote (*swoon*) with a side ramekin of brown butter foam (bizarre but tasty variant on whipped cream) and a soft floury sweet shortbread. I prefer crispy shortbread, but whatever. This came with the longest-named wine ever, i get tired just reading it: 2004 Grenache blend with Carignan, Cinsaut & Syrah, Madeloc Banyuls (Roussillon, France)
Posted by foodnerd at April 8, 2007 07:21 PM