fried clams right next door!
On the way to a friend's house some months ago, we drove down Rt 117 through Weston, and passed a fabulously retro-looking drive-in called Dairy Joy, with a sign out front saying "fried clams & hamburgers."
Say no more.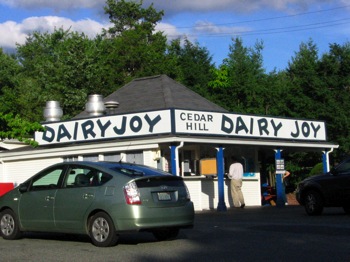 We never got a chance to try it, though, until tonight. It was a perfect evening for it, warm and sunny with a bit of a breeze. We ordered a full fried clam plate with onion rings, a half-plate of fried clams with french fries, a crab cake sandwich, lemonade, diet coke, and a raspberry lime rickey.
This turned out to be a mixed bag. The drinks were horrible -- the fountain coke was nasty, and the rickey was so overpoweringly sweet i couldn't touch it. The crab cake sandwich was a naked cake on a naked bun, without sauce or lettuce or anything, which for $8.95 seems a little stingy.
But the fried clams were *top shelf*, the equal of any I've had -- fresh and sweet and briny, no sand, with a lastingly crisp coating.
The onion rings were coated in the same light batter, which isn't my preferred style for o-rings, but they were fine enough, as were the fries. Sitting on the plate with those gorgeous clams, dipped into tartar sauce or cocktail sauce (both very tasty renditions), they do just fine. The full plate is the better deal, so if you aren't overly-hungry, just get a full plate and share it instead of buying two halves.
Of course, at a place called Dairy Joy, you more or less have to get ice cream for dessert. It's soft-serve only, which is all kinds of old-skool for me, having grown up on the stuff. They have some interesting flavors, and are apparently known for their creamsicle twist and their "javaberry," another twist of raspberry sherbert and coffee ice cream. We tried the javaberry, since my mom & I both love raspberry and coffee flavored stuff. This is actually pretty good, even though the raspberry is a touch too sweet for my taste, because you get flashes of both flavors as you lick your way through that cone, sometimes sweet raspberry, sometimes creamy coffee, sometimes a li'l of both. Next time, though, i think i am going for straight up coffee soft-serve. That stuff's killer.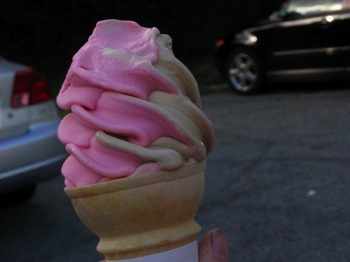 So before you pack the car and drag your ass to the North Shore or Narragansett Bay to get decent fried clams, consider the Dairy Joy, just down the street on Rt. 117... just bring your own beverages.
Posted by foodnerd at July 24, 2007 09:11 PM