Pita Kebab
Whilst downtown today, i walked by a little hole in the wall labeled "Pita Kebab" that had a newspaper review on the window that said it was Persian and had great kubideh.
Say no more.
I stopped in for lunch, and though that kubideh was perfectly fine, especially for wicked-fast takeout, it wasn't all that. The clipping said it was richly spiced, delectable, etc., and frankly I didn't detect much spice at all, and it desperately needed salt. Ditto on the rice: fragrant and tender, but a little bit bland, in dire need of some nice salted butter. The chopped salad, however, was top-shelf, super flavorful and lemony and minty, yum yum.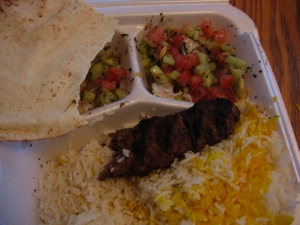 So Molana is better, though twice the price, and my own kitchen is better even than that, but if you work in the Downtown Crossing/Chinatown area, it's a nice change of pace for lunch takeout.
Posted by foodnerd at February 8, 2008 03:27 PM