bacon club eats
The delights at Bacon Club run the gamut from subtle scones to insane desserts to the bacon-wrapped classics. Everything was good, some things were great. We are full. Note to self: Miller High Life is the perfect beer for Bacon Club.
The photographic evidence: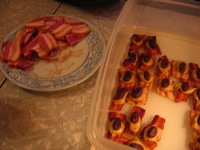 hunter bacon (raw smoked/cured bacon from the russian shop, very chewy & salty and lovely on a vimta cracker), and choco maple bacon bites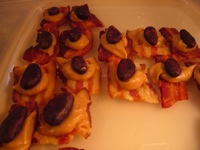 did i mention, choco maple bacon bites? holy crap. yum. crispy bacon, with maple cream made with maple syrup and bacon fat cooked & whipped, and topped with a roasted cocoa bean from the Dominican Republic.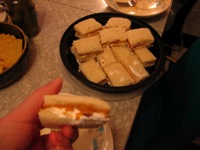 crustless fluffernutters with bacon. Elvis-rific.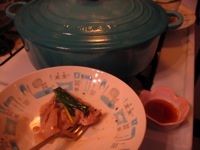 Korean braised pork belly (braised plain with garlic) with salty sesame sauce & scallions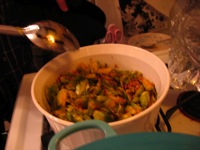 brussels sprouts with bacon & hot pepper flakes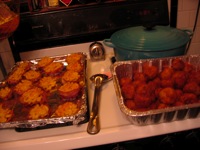 my bacon cups with mac & cheese on the left, arancini with asparagus & bacon on the right. The bacon cups with mac-cheese did in fact work well -- they were tasty and popular, and even the shaggy and tiny ones held their filling well. We filled them before we left home, then ran them through the oven to heat through and crisp the last flabby bits of bacon.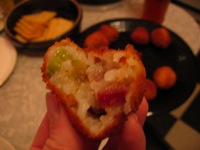 arancini (mmmmmmmm)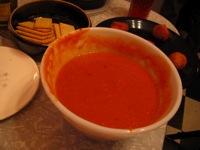 tomato-bacon soup (also nice as a sauce for arancini)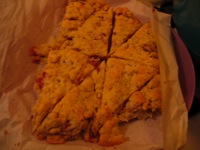 bacon-pepper-cheese scones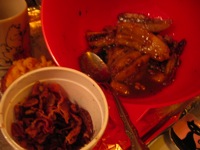 bananas foster with bacon & pecans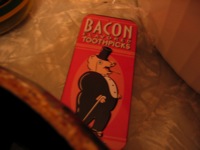 bacon flavored toothpicks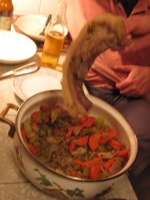 lentils with carrots, celery, onions with slab bacon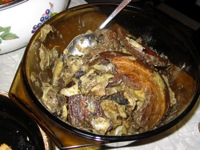 artichokes & mushrooms with pancetta & lemon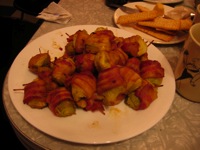 artichokes with mustard, wrapped in bacon and broiled -- this is a really tasty thing, and probably quite easy... i may steal it for my next party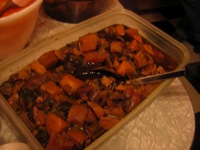 borscht with bacon... i didn't actually try this last one, as its maker arrived with it long after I had already stuffed staggering amounts of bacon down my gullet
Also, special bonus recipe from our lovely Bacon Club hostess: for bacon caramel popcorn, cook equal parts B-grade maple syrup and bacon fat to the hard crack stage, mix with popcorn, crisped bacon pieces and pecans. She said that 2 cups each syrup & bacon fat was enough for 10 cups popcorn. Let me know if you try it before i do.
Posted by foodnerd at March 9, 2008 10:51 AM