Chicago: Noodles at Marshall Field's
[this post has been waiting a MONTH for me to get off my keister and upload the pictures that go with it. sigh. better late than never, i suppose.]
NOODLES BY TAKASHI YAGIHASHI
(in the Seven on State food court)
MACY'S
111 N STATE ST, 7TH FL
(312) 781-4483
Hours: Mon - Sat 11am to 4pm, Closed Sunday
We needed a quickie lunch in the loop before heading to the airport, so i went to this website which lists out a huge lot of loop restaurants. It was quite useful, and we thought this japanese noodle shop might not suck too bad, and it was within a few blocks of the hotel.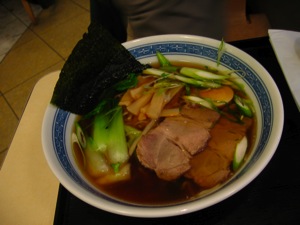 Turns out the ramen is delicious! Good quality noodles, tasty broth (we had shoyu) and the moistest, most flavorful slices of pork we've ever had in a bowl of ramen. Slightly smallish bowl, but not everyone has the vast noodle-eating capacities of tallasiandude.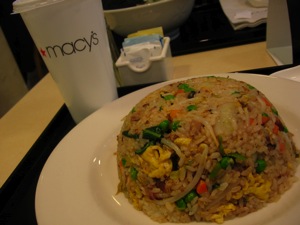 I ordered a braised-pork fried rice, which was also delicious, tasting strongly of the wok's heat and of white pepper, with fresh bits of bok choy and egg and carrot and shiitake and bean sprout, and more lovely moist soft pork.
Posted by foodnerd at March 21, 2008 12:04 PM