Scooter's burger-n-shake
Ay yi yi, tallasiandude points out to me that there are NO POSTS again. I SUCK. My profoundest apologies to all of you who actually read this blog, since the fact that any of you actually do that is a source of much pleasure for me. Work stuff has gotten a little out of hand again all of a sudden, just as the spring has been springing, and the last thing i've wanted to do when the day's last mole has been whacked is stay in front of the computer. So I offer my apologies, and this photo, of my latest meal: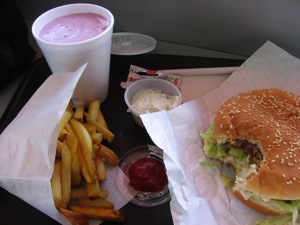 I ate this at Scooter's, on NW 24th in Ballard (Seattle), for lunch just now. I came out to Seattle for a training course, and stayed a few extra days to visit my brother and let him point me at all the edible treasures Seattle has to offer. (The nice thing is, after fighting like cats and dogs much of our lives because of a 5 year age difference, we have come out as very similar adults: i'm a foodwhore, he's a foodwhore. we have the same kitchen implements, down to the peelers and the shape of our cereal bowls. it's a warm fuzzy, really.)
anyway, lunch was a cheeseburger, small fries, and a mini-blackberry-shake. With ketchup and tartar sauce for the fries. Yums. It's just the sort of burger I like, all flat and skinny, with american cheese and "scooter sauce" all mushed in with the pickles and lettuce and tomatoes. Crispy fries. Creamy shake, with just a shade of berry flavor peeking through the creamy, though I can tell there was real fruit in it since I had to pick the blackberry seeds out of my teeth when i got home. Not bad for walking distance from home...
Posted by foodnerd at April 23, 2008 05:49 PM