Green Bay is weird
I am in Green Bay, WI for work, and this place does not make sense to me. I started my day at 5am in a mildly infuriating hotel at O'Hare and flew directly to my client meeting, fueled only by an energy bar and black McDonald's coffee. We broke for lunch at 1pm and by the time we got food it was much closer to 2 and I was about to pass out from the hunger. (I confess Wisconsin has pushed me pretty well off the wagon: lunch was fish and chips with excellent curry sauce and tartar sauce, while dinner was cheese soup and deep fried cheese curds, but I'm getting to that.)
Our meetings broke up at 4:30pm, and after checking a bit of email my colleague and I headed out for an exploratory walk, mostly so as to keep me awake long enough to eat dinner. We passed some lovely early and mid 20th century buildings, including the frothy 1908 courthouse and the fabulous art deco Northern Building -- but not many restaurants. One Mexican spot with a patio was locked tight as a drum at 6pm. The Stein seemed rather more like a windowless old man bar. Eventually we fetched up at the spot where we'd had lunch, an Irish pub (hence the chips and curry), so we kept on going.
We passed about 6 pubs in a row, I swear I do not exaggerate: a few Irish, a few sports, a few more generic, but all labeled "pub." Having had pub food for lunch, we pushed on. We passed a sad looking Chinese restaurant and a semi-promising Mediterranean place called, unfortunately, FetaZ. We kept going over the bridge to the other side of the bay, where we encountered two brewpubs and then an IMMENSE farmers market. We browsed the market, mourning our inability to buy the gorgeous peaches and kohlrabies and fragrant onions, and passed a decrepit Thai spot and a small Japanese of not-encouraging appearance. Oh, and a couple more pubs, one called Keggers. We also passed more restaurants that were outright closed. The only spot we'd seen pedestrians in any quantity was the market itself. Everyone else was in the Titletown Brewery -- we'd stuck our heads in to check the menu, as we'd heard of this place from the clients. It was more pub food and swarming with people, so we pressed on.
By now we were growing hungry, so we headed back, hoping to see something good on the way. We didn't, so we headed for FetaZ. Unfortunately it was a weird takeout spot with fajita pitas, greek salad and suspect gyros (Best Greek Restaurant of 2006 and 2007 awards notwithstanding), and we didn't really dig it, so we left. Starting to be frustrated, we walked back to where we thought we'd seen some other spots, which turned out to be closed or pubs. Are you starting to see the weird?
Finally we gave up hope of a healthy dinner and headed for Al's Hamburgers, since 1934 purveying greasy goodness to the citizens of Green Bay. Which, in solid upstanding greasy spoon tradition, closed at 7pm, the exact moment at which we arrived. Despair! Sadness! And then confusion:
What kind of city has no useful restaurants in its downtown business district?
What kind of city has its pubs outnumbering restaurants by at least 3 to 1?
What kind of city has perhaps a third of said restaurants of apparently current operation locked up tight at the dinner hour on a weekday?
We gave up and walked back across the bridge to the Titletown Brewery, which at least was much less crowded by then. (God forbid citizens be out past 7.) And you know, Wisconsin may be weird but it is well known for its cheese, so we had to try the beer-and-cheese soup (spicy and rich, basically a tarted-up welsh rarebit sauce with a few diced vegetables to support the argument that it's a soup). And it is beyond my capacities to pass up a deep-fried cheese curd. These were excellent, very crisp and of a delicate flavor that demanded attention. Don't mindlessly pop these, and certainly do not drown them out completely in the tomato sauce provided. I got a salad to balance the protein, with apples and pears and cranberries -- it should have been good, but I didn't really grasp that all the fruit was sauteed with onions and poured over the salad piping hot. Steaming hot apples and onions topped with salad dressing and walnuts is weird, and in kind of a bad way. I ate a few to get in the fruit, picked out the cranberries, and left the rest. Blargh.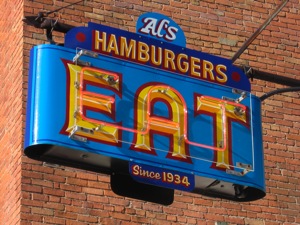 Happy update: We went to Al's the next day for lunch, and the burgers are great. Messy handformed patties grilled with onions right in, topped with melty processed yellow cheese, and resting on a pillowy white bun. Redemption!
Posted by foodnerd at July 23, 2008 10:55 PM