roast tomato sauce in winter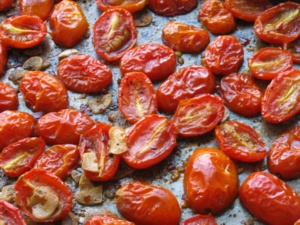 We ended up with a big pile of grape tomatoes teetering on the edge of spoiling, from a friend who couldn't figure out where she'd use them up. Happily, the most recent issue of Cook's Illustrated had a recipe for roasting grape tomatoes to make a pasta sauce, which had struck me as intriguing.
Works pretty good, and if you ignore their instructions to mix things in a bowl, and just dump everything onto a baking sheet and stir, it's easy to do and to clean. I would say you need a LOT of tomatoes, so it's not necessarily economical, but if you can't stand another day without a fresh tomato dish, this'll do ya. It would also be pretty nice for company, since it doesn't take a lot of doing.
lots of grape or cherry tomatoes, halved (2-3 pints)
3 large garlic cloves, sliced thin
olive oil to coat tomatoes well
salt
pepper
red pepper flakes
sugar (if your tomatoes are very sweet, skip this)
splash of balsamic or any wine vinegar
Heat oven to 350F. Dump the halved tomatoes on a baking sheet with the garlic slices. Glug a bit of olive oil over it, sprinkle with salt, pepper, sugar and red pepper flakes to taste. Stir to coat the works. Splash the vinegar over and stir again. (Cook's said to slice some shallots, mix with some oil and put them on top, but i didn't have any -- it's fine without.) Roast without stirring 35-40 minutes, until the tomatoes are a little shriveled and soft, but the garlic isn't yet burnt.
I mixed this with some sliced pepperoni (paprika salumi, really), and reheated it in the oven for 5 minutes, then dumped it onto penne and topped with thin slices of strong provolone. You could mix in all kinds of stuff -- artichokes, capers, cheeses, herbs, tuna, whatever you happen to have around. I think it would be pretty nice with a roasted chicken, which you could do in the same oven, and a green salad. We ate it plain, since we are clearing out the fridge this week and don't have much to work with.
Posted by foodnerd at February 17, 2005 10:28 PM