yakitori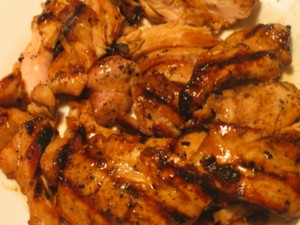 Most recipes for yakitori I've tried didn't taste anything like the glorious stuff I've had in izakaya in Japan and in one fabulous, lamented Brookline restaurant (how we miss you, Kiyoshi-san, o drunken master of the charcoal grill). But I happened on one here, which I've stripped down to its simplest to great effect. The vinegar is the key. You can make this for a crowd pretty easily if you've got a big enough grill. I slice the meat before serving, so it's easier to nibble.




pack of boneless chicken thighs
4 tablespoons soy sauce
4 tablespoons rice wine vinegar
4 tablespoons sugar
Mix soy, vinegar & sugar in a marinating dish. You want to stir & stir, b/c it will stay gritty a long time - you could probably also heat it to speed up the melt. Marinate thighs about an hour, or less/more if you're busy. Grill them -- you'll get a bit of char on the outside, but meat will stay moist & yummy because of the salt & sugar.
Posted by foodnerd at November 12, 2004 08:04 PM