more fun with green tomatoes
What with the general insanity in my world lately, I haven't gotten around to frying up those green tomatoes. And this morning I looked outside, where I've been storing them, and found them frozen solid. Oops. So I needed a way to cook a lot of them fast -- The Gift of Southern Cooking to the rescue, with a scalloped green tomato recipe. Slightly adapted by me because I love Lawry's seasoned salt on cooked tomatoes. Tangy, savory, and warming. Mine was very pretty, with mostly green tomatoes with a few red ones and nut-brown cubes of whole wheat toast making a nice contrast.
10 or 12 green tomatoes (if you have a few reds too, that's ok)
small onion
big clove garlic
1 tsp sugar
1 generous tsp Lawry's seasoned salt
1 tsp dried thyme
1/2 tsp ground black pepper
1/4 tsp or dash ground nutmeg
3 slices bread
few tablespoons butter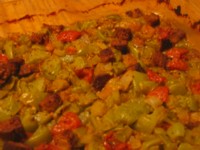 Melt butter, cut bread into 1/2" cubes, mix together and toast in oven 8-12 min at 375F. Cut onions & tomatoes into 1/2" cubes, mince garlic, and toss in a bowl with sugar, salt, thyme, pepper & nutmeg. Mix in the toasted bread. Butter a nonreactive baking dish (I used a big glass lasagne pan that i'd already used to toast the bread) and dump veg/bread mix in. Spread flat, cover with parchment paper, and bake 40 minutes or till tender at 375F. Take paper off, bake 10 minutes more to crisp up top. Serve hot. You could probably use foil instead of paper -- it called for both but i was too lazy, and the paper worked fine alone.
Posted by foodnerd at November 10, 2004 02:19 PM