IMBB10: Chocolate Afghans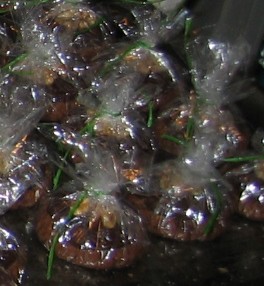 I am still in the throes of work hell, so baking was an utter impossibility for me this weekend, but I know what cookie I would have made: chocolate afghans. All over New Zealand, we found these fabulous crunchy chocolatey cookies wherever you might find a big thick chocolate chip cookie here in the US. We happily gobbled them up with our tea, and eventually happened on the best cookie in NZ as far as we could tell, at the DeLambert Cafe in Oamaru on the east coast of the South Island, 70 Thames St, Oamaru. 0-3-434 8884. (Apparently it is/was for sale. Oh, the temptation.)
The picture above is from the last batch I made for the MoveOn bake sale, so unfortunately they're wrapped up in plastic for sale, but you can get the general idea: thick chocolate cookie, with thick fudgy icing, and a walnut half on top. The web turns up not very dang much on these cookies, but my friend Ian did some experimenting and pointed questioning of his Kiwi pal, and came up with the following recipe.

Cookies:
200g (a little less than half a pound) unsalted butter
1/2 cup = 1.2 dl sugar
1 1/4 cup = 3 dl flour
4 tablespoons = 60 ml cocoa powder
1 teaspoon baking powder (can try using up to 2 tsp)
2 cups = 4.5 dl corn flakes (I would measure before crushing). You can also use Weetabix. (Note: Foodnerd recommends Weetabix if available for better crunchiness.)
Frosting (this made almost twice as much as I needed):
200g sweetened cooking chocolate
2 scant tablespoons butter
2 tablespoons cream (the original recipe called for 1/2 cup but this would
have made it too runny)
walnut halves
Preheat oven to 350 F/ 180 C
Cream butter and sugar until light and fluffy, then stir in dry ingredients. Note that this dough is really stiff and will take a lot of elbow grease to incorporate properly. Crush Weetabix/cornflakes (more or less fully depending on taste) and fold in well. (It works best if the crunchies end up inside the cookies not on the surface.)
Use your hands or a tablespoon to form dough into fairly large cookies, almost golf ball size (this recipe made only 18-20 cookies). Place on greased cookie sheet and press down slightly. They'll be a bit thick.
Bake about 13 minutes; better to undercook rather than overcook & make them too dry. Cookies should still be soft and fragile when you take them out of the oven, but they will harden somewhat after a few minutes of cooling. Let them cool enough on the tray or they'll smush as you lift them.
To frost, melt chocolate and butter in a double boiler and add cream until you get the right consistency. After cookies have cooled somewhat, use a spoon to cover them generously with frosting and then put a walnut half on top.

Posted by foodnerd at November 21, 2004 12:55 AM