scrapple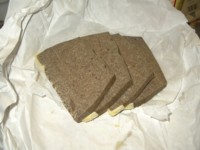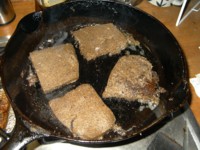 Not to everyone's taste, this spicy meaty mush, but I sure do love it, even if it is primarily composed of, in the immortal words of my grandfather, "snouts and assholes." Probably because I had it when I was small growing up or visiting family outside Philadelphia, but really, this stuff should have a broader appeal if we can all manage to stomach hot dogs. It's a squarish loaf of ground pork, cornmeal and variable amounts of sausage-like spices, and it can vary in texture when cold from fairly smushy to the firm block we had this time from Dietrich's Meats.
It does tend to be a bit tricky to cook, though. You want a nice hard crunchy crust on your slices, but because the inside of the slice gets softer from the heat, it's a little iffy getting them flipped in the pan without undue mangling. The heat seems to be pretty key to success -- you want moderate heat, not too low or it won't cook fast enough not to stick hard to the pan, and not too high or it'll burn before it gets cooked properly. Be patient and let that crust form. And don't use a crappy pan like we did, that seems to have major hot spots despite being made of cast iron. (???) You have to dig hard into the pan with your spatula and get well under the crust to have even a prayer of well-formed scrapple slices hitting your plate. Mom was the only one of us who managed it.
Even if you end up with a jagged pile of crunchy brown & smushy gray crud on your plate, however, it will be delicious: meaty, soft, crunchy, savory. This batch was less highly spiced than some I've had, but rather meatier. I suspect the fine folks at Dietrich's pride themselves on the quality of their meat and the lack of fillers in their scrapple. Fantastic with eggs and ketchup and toast.
Posted by foodnerd at December 28, 2004 01:35 PM