fat, glory of the pig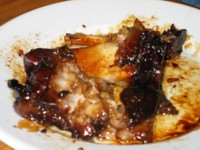 Oh my goodness, I love pork fat. Trafe in the extreme, but oy vey, so delicious and soft and rich. Sorry the picture is such crap, but we were mostly done snarfing this one up before I realized I needed to photograph its glistening chestnut-brown fabulousness.
So whilst shopping for noodlefest '05 (post promised soon, according to tallasiandude) we picked up a piece of pork thigh, bone in skin on, at the Super 88 Market. We never used it for the noodles, so we stuck it in the freezer, and today I didn't feel like going out to shop so I grabbed it and cast about for recipes. Big Book of Chinese Goodness came through as usual, with two recipes that I combined: Red Cooked Pork and Dong Po Pork (i suspect this of being a version of the Tung Po pork I loved so much in LA).
pork shank (mine was less than 1.5 lbs), with skin, fat & bone
1/3 cup dark soy sauce (this is the thick black sweetish kind)
1/3 cup light soy sauce (ie, normal soy sauce)
2/3 cup shaoxing wine
2 cups water
half a star anise
10 or so peppercorns
5 slices ginger, smashed
3 scallions tied in knots (or 1/4 onion, cut up)
Boil water in a saucepan large enough to hold the pork, and blanch it for about 5 minutes (less than 10). Drain and rinse. Put into a braising pot with the rest of the ingredients, bring to boil, then lower heat to low and simmer covered 3 hours, turning occasionally, until the meat is falling off the bone.
This will give you a luscious mahogany-colored mess of a dish, full of flavorful meat, soft creamy fat, and unctuous skin. Eat it with rice, and lots of vegetables, perhaps some pickles -- the meat is so rich, you want clean veggie things to cut through the fat. Also note that this 1.5 lb piece of meat was a paltry $1.20 at the chinese market; granted, it only fed two with no leftovers, but we are *happy* with our dinner, let me tell you.
Posted by foodnerd at February 27, 2005 08:22 PM