vietnamese chicken?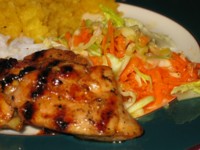 Made the Sticky Vietnamese Chicken from the current Gourmet, and it was pretty good -- but I would put more fish sauce in it next time, as it was a bit mundane in flavor. Perhaps also the lack of lime juice didn't help; I had to use the last-resort lemon juice from a bottle. Tasty with the pickle-slaw and sriracha that went with it though, and I can't complain.
2 garlic cloves, minced
3 tbsp sugar
1.5 tbsp fish sauce (use more)
1.5 tbsp vegetable oil
1 tbsp lime juice
1.5 tsp sriracha (aka rooster sauce in some circles), or more
1.5 lbs skinless boneless breast or thigh of chicken; i used thigh
Cut chicken into slices -- I cut each thigh piece into 3-4 bits -- for better grilling. Whisk rest of ingredients together, and marinate chicken 15 minutes. Grill on grill pan or on outdoor grill (recipe says 1 min per side; use your judgement).
Serve with rice, more sriracha, and pickle-slaw (shredded carrot and/or daikon and/or cabbage, in dressing of white and/or rice vinegar, 2 cloves garlic minced & smashed to paste w/ 1 tsp salt, splashes of fish sauce and sherry, and a few tablespoons sugar, plus a bit of vegetable oil).
Posted by foodnerd at February 25, 2005 08:30 PM