casablanca kicks ass again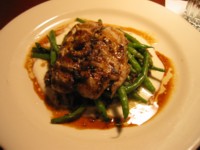 For years I have been eating at Casablanca in Harvard Square, and it has never yet disappointed me. The menu is hard to describe, sort of a pan-mediterranean quasi-north African flavor, with simple food in creative combinations, prepared perfectly.
For instance, tonight I had a dish I have had once before and was unable to resist ordering a second time: grilled bluefish over black chickpea puree and green beans, with yogurt sauce. This time the fish had a pomegranate-citrus glaze and a lemony sauce along with the yogurt. The tangy, sweet, earthy, nutty, creamy flavors all blend perfectly with the rich fish, and the green beans are bright green yet soft, and add a fresh clean flavor to the complex richness of everything else on the plate. Tallasiandude used to think he disliked bluefish until he tasted my dinner tonight.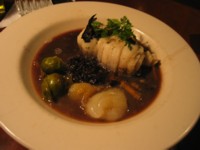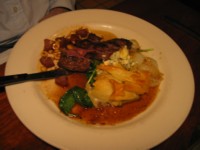 Fish here is always utterly fresh and delicious, and cooked perfectly. Normally I won't ever order fish in the first place, because it generally is not fresh or not cooked well or both, and it's just a depressing waste of time, but at Casablanca I eat fish more often than not. Tallasiandude and D both had the poached sole, mild and clean, glowing white against a pool of black rice, black trumpet mushrooms and yellow foot mushrooms in a dark-colored but light-flavored broth, with brussels sprouts & cipollini onions. Very different from the richness of my fish, but nearly as lovely. And B had a stunner of a dish: venison with braised pears, toasted hazelnuts, sauteed spinach, blue cheese, and a sweet orange vegetable in phyllo that we think was honeyed butternut squash. The sauce was very thin and slightly sweet, not syrupy but just enough to set off the lean meatiness of the venison. The dish would not have worked as well with beef, but with venison it was tone perfect.
Even simple salads and starters are great here. Tallasiandude had romaine hearts with parmesan cream and a soft poached egg & crostini; he gave me the olives because he hates them, but loved the rest of the dish. My salad was frisee and endive with pink grapefruit, walnuts and aged goat cheese. I loved it, and the flavor combo was terrific, but I am a cheese whore and would have gone easier on the walnuts and upped the cheese, which got a little lost. D had a grilled portobello which he adored, and B had a gorgeous velvet-brown soup of caramelized fennel and potato.
I can't gush enough about this restaurant. The food is so good, and so *reliably* good. It's interesting AND satisfying. It's healthy: lots of vegetables and legumes and grains, and the portions are sane. And it's a fancy festive place with a relaxed atmosphere, so you can dress as you like -- even better, you can get the same food in the bar, which is louder and even more casual. If only every spendy restaurant was this good...
Posted by foodnerd at March 28, 2005 12:27 AM