armenian easter bread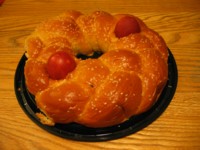 En route to dim sum at Shangri-La in Belmont, which by the way is a fantastic Chinese restaurant in the least likely of settings (the name! the weird black & white mosaic tile entry! the T-shirt printery next door!) where we had some spicy beef noodle soup that contained some absolutely top-shelf beef that was soft, moist and still marbled with tender connective tissue despite its long stewing time (better than our own beef by a long shot), and also some fried string bread and spicy steamed spare ribs and soft boiled dumplings in spicy soy sauce that I know as suan la chow show from having had them at Mary Chung's. Where was I? Oh yes -- en route to this deliciousness, I saw a woman walking past us carrying a large cake or bread ring studded with red orbs. It looked rather festive and very intriguing, and I suspected it may have emanated from the Eastern Lamejun Bakery next door to Shangri-La.
Of course I was not able to resist. I scoped out the goods while waiting for our table, and scooped up the goods as soon as we were done with lunch. We ate the treasure with friends who came over that evening with fancy cheeses & wines. It turned out to be a firm, sweet, light, eggy bread like challah but a bit dryer and sweeter, with a very nice flavor and a touch of sesame seeds on top. The orbs, as surmised, were hardboiled eggs dyed red, presumably for some kind of Easter symbolism (I am not so up on my specific Christian-pagan imagery). It's too bad that organized religion is responsible for so much evil in the world, because the rituals and celebratory foods are really quite delightful.
Posted by foodnerd at March 29, 2005 10:33 AM