chilaquiles, kinda sorta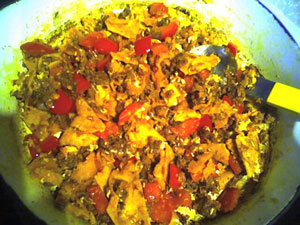 In my limited kitchen, I have been making things with the tortillas and eggs and chorizo that I have, and I have settled on a pretty good method, based loosely on the chilaquiles rojos recipe on the back of the tortilla package. It is particularly useful for improving crappy supermarket tortillas.
Take a good chunk of spicy chorizo and start it frying, smushing it with the back of your spoon. When you have a little rendered fat, add some diced red bell pepper. When it's all nice and fried (pepper soft, chorizo browning), add cut-up tortillas and stir. When the tortillas are soft and well blended into the mess, break an egg in there and stir it in to scramble & cook. Top with some cheese. Chow breakfast. Or dinner. Whatever.
You could put in onion & garlic, or avocado, or rice, or tomato, to change it up. I've been eating some form of this all week, and it's saved my hungry butt more than once when I've dragged in after the 80 minute commute home. I wish I could more easily find Mexican chorizo in Boston -- I must not be looking in the right place. It's a tasty treat.
Posted by foodnerd at April 26, 2005 08:15 AM