IMBB 14: Carrot-lime salad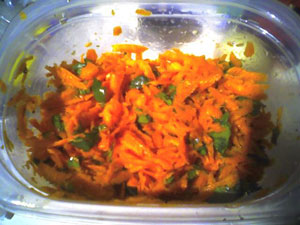 One day late because i am still homeless and don't have kitchen and internet within 5 miles of each other (so not kidding), but I really wanted to be sure to participate in IMBB Orange, because a) it is cool and b) orange is one of the best colors EVER. This is the most orange thing that I make, and given my current circumstances thank goodness it's also blindingly easy to make. Especially since I scored a box grater at the very last minute for 25 cents at a yardsale yesterday (whew). It is so refreshing and delicious, and goes with lots of different foods as a side salad.
Peel carrots -- I used 3 big ones -- and grate. Chop a bit of cilantro & add that, squeeze in a lime, sprinkle with salt & pepper, and drizzle with just a bit of mild oil. Toss. You can eat it immediately or let it marinate a little while, either way it will taste sweet from the carrots, sour from the lime and savory from the salt & pepper. Crunchy too, always a plus in my book, and just think of all the vitamin C & betacarotene in this thing.
Posted by foodnerd at April 25, 2005 02:58 PM