back in the groove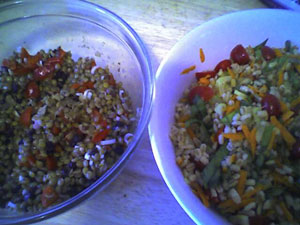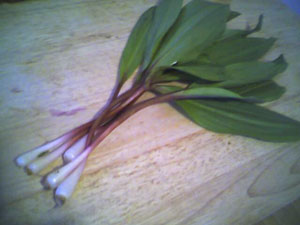 My body and mind are so much happier with me now that I have a proper kitchen and have taken a couple of fruitful trips to the Whole Paycheck and the local mexican and asian markets. I scored some ramps, since I had never had them and my friend H has been obsessing about them lately, AND they were looking pretty nice in the market, and $2.50 is cheap for a thrill.
I turned them into two salads, three really if you count the green salad I made for dinner one night with garrotxa cheese, ramps, green leaf lettuce, grape tomatoes, & carrots. The ramps & garrotxa complemented each other well and their nuttiness went well with the sweet tomatoes and carrots. Anyway, the ones in the picture are a barley salad with grated carrots, sliced celery, grape tomatoes and ramp greens in a simple vinaigrette, and a french green lentil salad with currants, ramp whites and peppadew peppers in similar vinaigrette. Lord, I love those damn peppadews! This lentil salad is my favorite -- all nutty sweet vinegary goodness. The combination really works, and it's so simple. If you haven't got any ramps, you could swap in shallots to good effect, I would think.
I served these (to myself) with a skirt steak panfried rare with a cilantro chimichurri. Ahhh, vegetables, fiber, meat, fresh flavors! Whew.
Posted by foodnerd at May 7, 2005 07:56 PM