carniceria laura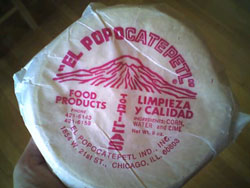 So the nearest market to my house is a mexican carniceria/grocery called Carniceria Laura, on Ashland just north of Chicago. It's a cute little full-grocery market, with a mini-restaurant in the back and a monstrous meat counter. There's all manner of beast products (tongues, large cuts of beef, etc.) and a smaller hotcase that has roasted pig and the biggest damn chicharrons I have ever seen. I am so going back to get some of those.
They have a whole wall of dried chile peppers and herbs and so forth, plus anything you could want in packaged Mexican goods, including horchata concentrate. Oh yeah.
I bought some necessaries, and a bottle of that great Tamazula smoky hot sauce, which made a really great guacamole, and a packet of locally made tortillas that were still warm in their paper package on a late weekend morning (er, early afternoon, whatever). The tortillas were awesome, full of soft corn flavor, and i put some of the leftover steak in there with the guacamole, to great effect. Yum!
Posted by foodnerd at May 8, 2005 08:12 PM