blackbird: wow.
Holy cow. I often enjoy expensive fancy-pants meals when I have them, but I am rarely impressed as deeply as I was by my dinner at Blackbird last week. (I would have run home immediately to blog about it, but work and travel intervened.) My friend R has a brother-in-law whose job takes him to Chicago, far from friends and family -- and that brother-in-law is not just a nice fella, but he is a Food Whore. Can I get hallelujah? Because I get to be his stand-in dining companion. Yay!
He couldn't decide between the unknown-but-recommended (Spring) and the known-and-loved (Blackbird). I scoped the menus online -- why doesn't Spring put their whole menu up, dammit? -- and was equally torn, until I had a look at the desserts: Blackbird was offering avocado panna cotta and chocolate semifreddo with bacon. Chocolate + bacon = I MUST GO THERE.
So we went. And the room is as sleekly fashionable as it had seemed from the outside, but oddly cozy, perhaps because you're close enough to the neighboring tables to smell their dinners, and get pulled in to neighborly conversation about what you and they've been eating. Which is sort of nice, taking the edge of seriousness off such a highfalutin' restaurant. The service is friendly but not overly so, knowledgeable but not snotty; I was pleased.
C & I got to chatting, since we'd never met, and happily had lots in common, so we hadn't even gotten a look at the menu by the time the people next to us got their amuse-bouche -- which smelled so goddamn good it was distracting: we both stopped talking and started staring. It was some sort of soup, strongly scented with black truffle. Normally i find truffle mildly annoying: it's usually just a token extravagance that doesn't add much to the actual enjoyment of the dish, it smells better than it tastes, and most of the time there's not even enough of it there to really detect it at all. But this -- it smelled SO good. When ours arrived, we immediately stuck our noses into the cups and sniffed. And sniffed and sniffed. The cups held a few spoonfuls of sunchoke bisque, supercreamy and light and savory, with big slivers of truffle floating in it along with tiny bits of apple and possibly sweet onion to add crunch & brightness. I scraped every single bit of soup out with my spoon, and only the fact that I was dining with someone I'd just met kept me from attempting to lick the cup.
I knew I was going to get along just fine with C when we couldn't decide on appetizers, so he proposed to whitewash our gluttony, I mean structure our meal, as three courses: 2 appetizers to start, 2 more to follow, and 2 mains to end. Dude, sign me up. (And of course we shared it all. Duh.)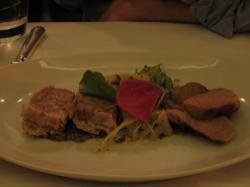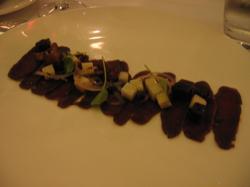 Course 1: We had a charcuterie plate of meaty country pate and boudin blanc (which I'd never had), with grainy mustard and pickled cabbage & summer beans & beet. The pickles were very sharp and well-spiced, as good as any I've made, and I make awesome pickles. The boudin was surprisingly meaty in flavor, considering it's so pale in color, and dense and a bit sweet from the rice; I am going to have to do some boudin investigations in Louisiana sometime soon. And we had a plate of venison pastrami, dark, dense, salty little slabs dotted with dates, fried capers, pickled shallots, pumpernickel toast cubes and sunchoke cubes. (Tiny cubes are a theme at Blackbird; normally I would find that a bit affected and annoying, but everything we ate was so spectacular that I am willing to completely forgive and even embrace such things.) The intensity of the meat was made even more delightful by the soft rich sweetness of the dates, and I would just like to say that whoever thought of frying capers deserves a cash prize.
C is a wine guy, so we had champagne with the starters; I had a brut rose that was very nice, but of course because I am a wine retard I can't remember what it was, or what C had. :-)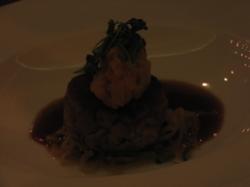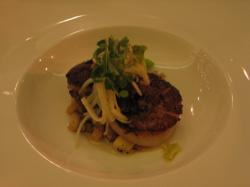 Course 2: My scallop dish was one of the best things I have ever eaten, period. It was completely and utterly perfect. Maine diver scallops, seared to a thick crunchy golden crust, intensely scented with black truffles -- two flavors that could not be more wonderful together, commingling and complementing each other -- and celeriac cubes, a few leaves of celery for a lighter, brighter note in the same key, and a bit of butter and salt. OH. MY. GOD. I have had a lot of fantastic scallop dishes over the years, but this one takes the prize, for the combination of flavors alone, in perfect harmony. Decorum got chucked and I scooped up every last bit of buttery sauce with my finger, licking as I went.
C had a confit of suckling pig, gorgeous in its own right, but perhaps not as mindbendingly sublime, at least for me. But that's no flaw -- and there certainly is no flaw in a pile of meat so moist, flavorsome and velvety, pan fried to a crisp crust, and served over sweet and sour cabbage, a cider gastrique (mmmmmmmm) and a wee pile of winter squash cubes. This dish was all about the softness of the pork in the mouth. Lovely.
By this time we'd gotten a burgundy. It smelled of forest floor, which I think is a lovely thing to smell like, and it turned out to fill the mouth nicely, round, with no hard edges. It got more floral and complex over the course of the meal, and was quite pleasant to drink on its own after we'd finished the food and were waiting on dessert. It was a Fixin 2001 Hervelets Premier Cru; I wrote it down on an envelope because I knew I'd forget what it was.
Course 3: I was having too much fun by this point and forgot to photograph the mains. I had a confit of veal tenderloin. The server asked me how I wanted it cooked, which confounded me -- veal usually comes one way, unlike beef. But this was grass fed, and was nearly as red as beef, and since I'd ordered medium rare, it arrived darkly pink and very tender, meatier than veal usually is -- sort of like the tenderest filet mignon ever. It came with some fried cavolo nero (a bit chewy, which was rather pleasant), some starchy red lima beans (also nice), a wine reduction, and baby artichokes and white turnips nestled into a creamy white-turnip puree. Yummy. C had a guinea hen glazed in yuzu. I had a few bites, and they hit with a powerful citrus flavor, an unexpectedly intense surprise, but not overpowering to the bird. I would have happily eaten a plateful.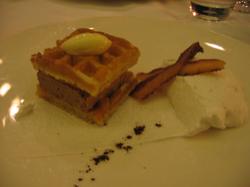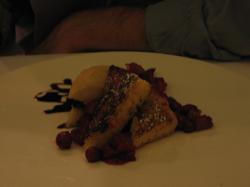 C got the english muffin pain perdu with fruity accompaniments, and you KNOW i got the chocolate-bacon extravaganza. It was two square mini-waffles, with milk chocolate semifreddo studded with hazelnuts in between, a dollop of sweet butter on top, and two tiny sticks of salty, fatty, strong, crunchy bacon propped up against a pillow of homemade marshmallow fluff. The fluff wasn't needed, but it was good anyway, heh. The bacon was not the usual american bacon; it might have been pancetta, or guanciale? Anyway, it was fantastic with the chocolate and the waffles, all that I'd hoped it would be.
After all this, we were perfectly filled, not a bit overstuffed. We were delighted, entertained, educated, contented; it was sort of like an evening of art appreciation, in which none of the pictures were boring or stupid. We would talk about other things, but constantly drop out of conversations to focus on the art happening in our mouths. We were there for nearly 4 hours. A restaurant that can make an evening like that possible deserves lots of repeat business. Next time tallasiandude comes to town...
Posted by foodnerd at November 7, 2005 10:58 PM