way down south in carolina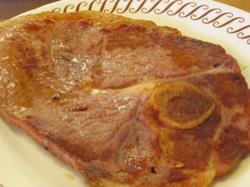 Went down to Raleigh for M & A's wedding, which was just lovely -- everyone should be so happy at their wedding as these two were. It was literally joy-full to be there to witness it.
We ate some fabulous fried green tomatoes with lemony shrimp at the reception, and a full-on Carolina-style BBQ spread at M's parents' place afterward, both of which were deelish. The next morning, after tallasiandude had to head home for class, I took myself to the Waffle House along the interstate and had a pecan waffle and a monstrous slab of salty country ham. Yeehaw! Yummy.
Posted by foodnerd at November 8, 2005 11:51 PM