the experiment
When I got back from holiday break on January 3, I had a bunch of leftovers from the familial celebrations, and there were a few things kicking around the kitchen after the roommate's departure. And I was exhausted and busy, and didn't really get around to grocery shopping, and I kept cobbling together meals from what I had, and finally it occurred to me that considering how jam-packed my cupboards were (compared to my nearly-empty refrigerator), I should make a game out of it and see how long I could go without buying any food whatsoever. (This is what happens to you when you are a foodwhore and squirrel away treats and ingredients in every spare corner of your kitchen.)
And thus was born The Experiment. I decided that I should make a special dispensation for buying milk, since you can't exactly stockpile fresh milk, and that I could be allowed the occasional meal out, since refusing social interaction for the sake of a pretty nerdy self-experiment seemed somehow wrong. Here are the stats:
half gallons of milk: 2, plus pint heavy cream for making sherbert
lunches out w/ coworkers or at clientsite: 2
Perez lunches: 5 -- it was cold, i needed soups! (this was the closest i got to cheating, because invariably Perez yields a bounty of leftover tortillas and at least 2 meals per purchase)
fancy dinners I didn't pay for: 2
weekend w/ MG visiting: 4 meals out total (tacos --> leftover nopalitos & refritos & tortillas)
weekend w/ELF visiting: 4 meals out total (dinner --> ribs & fries I ate for lunch later)
Except for these meals and the leftovers they occasionally generated, I went from January 3 to February 3 without buying any food at all. NO FOOD BUYING FOR 30 DAYS, and I cooked all the freaking time. I could have gone longer but the fry fest was on February 3 and I had to get things for that. After that, I ate more leftovers and cabinet contents, and didn't really and truly do a grocery shop until yesterday, when I went batshit at Stanley's and bought 20 bucks worth of vegetables.
I suspect that I got mildly malnourished during this experiment. I've been tired and cranky, and feeling almost sick, for a week or so if not more, and I'm craving fruit and vegetables -- i keep buying nutrient-rich juices on impulse -- and craving chicken, which is light and low in fat unlike all the heavy winter pastas and beans and meats I've been eating. I really didn't eat enough fruit & veg the last two months, certainly not enough vitamin C except for the limes that come with meals at Perez. I'm really happy about the beet salad in my fridge and the rutabaga mash I'm having for lunch and the broccoli I'm going to have this weekend.
Here's what I had to work with, beyond staples like flour and spices and oil:
frozen thai meatballs from roommate's mom
frozen veg - asparagus & broccoli
frozen salmon & shrimp
canned beans
canned tuna
canned fancy wild salmon & razor clams & oysters from my dad over a year ago
box of mushroom soup
eggs
2 dogs/buns from roommate
radicchio & parsley
limes from tallasiandude's mom's tree
leftover lamb leg from roommate's bon voyage dinner
leftover bread
kimchi & rice-pucks
2 kinds of salumi leftover from brother's xmas gift to me
scraps of cheese
yogurts
cookies & crackers from holidays, including 2 boxes of pb & cheese sandwich crackers
brownies
dates stuffed with walnuts
2 carrots & 1 onion
1 large red kuri squash
jar of moroccan carrot spread
jar of pickled mushrooms
3 lbs rotini, whole wheat & regular
jar red roasted peppers
can olives
broth & tomatoes in cans
dried fruits
Here's a sampling of what I made and ate during this experiment:
cold lamb w/ baguette & spicy carrot spread
spicy lamb stew w/ beans, carrot, tomato w/ stale-baguette toasts or tortilla toasts
cereal + milk, till the cereal ran out
cookies, brownies, yogurts for breakfasts
lunches & dinners of sandwich crackers + chocolate bonbons from dad
tuna w/ jalapeno, beans, peppers, with crostini crackers
lamb broth w/ whole wheat rotini, lamb shreds & meatballs

eggs w/ birria meat & parsley & pickled nopalitos, with leftover beans & reheated tortillas = brunch for 2

gratin of stale bread, peppery salumi & strong italian cheese, w/ eggs & leftover cream
Trader Joe's soycutash with nopalitos & leftover pico de gallo, tortilla chips
soycutash with birria meat & nopalitos
mushroom soup with various croutons & chips and other junk
canned wild salmon mixed with mayo, eaten on some sort of starch (surprisingly good for canned salmon)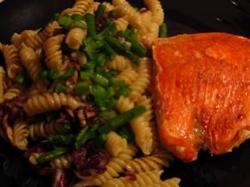 salmon w/ pasta/asparagus/radicchio/garlic, with sprouted onion garnish - this salmon was frozen, from Trader Joe's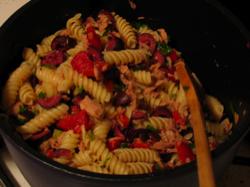 pasta w/ tuna in oil, roast peppers, parmesan olives, last of the parsley & sprouted onion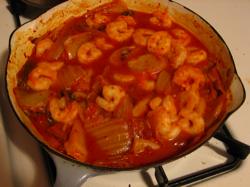 kimchi treat with pucks & freezerburned bacon & frozen shrimps (made w/ piloncillo instead of brown sugar - came out very yum)
crazy rice plain, also crazy rice re-cooked with cream & piloncillo
hot dogs w/ spicy mustard & homemade pickles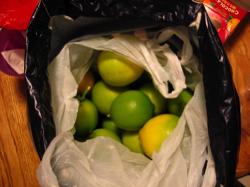 limeade & lime sherbert from at least 4 pounds of limes
More recently it's been packaged ramen with defrosted thai meatballs and fish cake, and carrots scavenged from the bottom of the bin. That and a big pan of another gratin of squash, mole-salumi and mozzarella leftover from fry fest.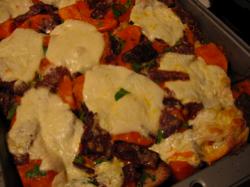 Seriously, it's amazing how many awesome meals can be made from what at first glance appears to be nothing. Granted, eating sandwich crackers and nothing else for lunch is perhaps more than is called for by simple thrift, but I have given myself a new resolve to eat only from what I have until what I have is gone, and ONLY THEN to go food shopping. We'll see how I do -- I'm like a magpie, except that instead of shiny objects I get distracted by fabulous condiments and pretty cuts of meat and exotic vegetables.
Posted by foodnerd at March 3, 2006 10:10 PM