yummy treat from austria #1
my dear friend B took a trip to vienna recently, and apparently ate nothing but pork and strudels. Not really. But almost, and wouldn't that have been fun?
And then he brought me back this little bottle of joy.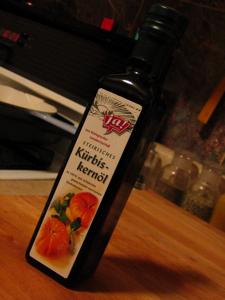 Apparently this is a great Austrian specialty: the oil of toasted pumpkin seeds. It's all dark brown and nutty, with that interesting bite of acridity that pumpkin seeds have. Lovely drizzled on roasted winter squash, and I can't wait to put some into a squash soup or a celeriac soup. Yummy! Thanks, B!
Posted by foodnerd at March 4, 2006 12:25 PM