best hangover cure in chicago, and mini-burgers at Emmit's
Last night I went out boozing with some coworkers at Emmit's and Richard's, both at the corner of Grand & Milwaukee & Halsted. A good time was had by all, and too damn many gimlets were had by me. However, I did learn one very important thing: in addition to being a high-quality dark cop bar, Emmit's has really delicious mini-burgers. No kidding -- really good buns, decent meat, real pickle & cheese. Yummy.
And Richard's has a swell jukebox, full of Dean Martin and Ray Charles and jazz and motown. I really needed someone to dance with. :-(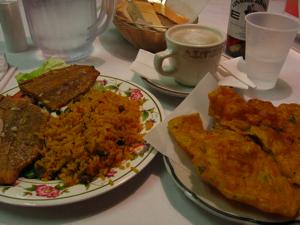 Anyway, this morning I woke up less hungover than you might imagine, but still the situation required serious breakfast measures to be set right. So I got in the car and went to Borinquen and got myself a roast-chicken jibarito dripping with garlic oil, and a cafe con leche, and a salt-cod fritter. The salt-cod fritter was fantastic, crunchy and salty and just greasy enough, and i dipped it into a pool of the spicy herbal vinegar out on the table. Have a closer look at how yummy it was: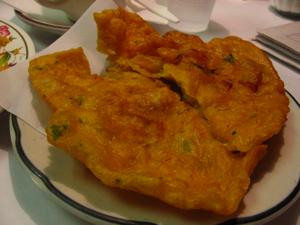 At 10:30 I was the only person in the dining room, but it filled up as I dawdled over a magazine and the last bits of plantain and yellow rice sopping in the vinegar. After an hour or so of quality time with my Puerto Rican breakfast, my sense of well-being had returned and all was right with the world. The whole works set me back less than 10 dollars. And 8 hours later, I still haven't needed to eat again yet. Heh!
Posted by foodnerd at May 13, 2006 07:23 PM