celery & red pepper braise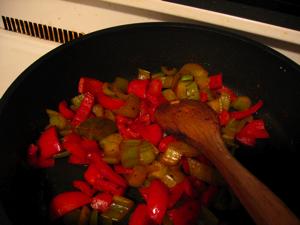 6 stalks celery
2 red peppers
cut celery & pepper into 1/2 - 1 " pieces. Saute in a bit of olive oil, sprinkle w/ salt. Sprinkle lightly w/ chili powder & oregano. When starting to soften, add 1/4 - 1/2 cup chicken broth, sliced garlic, bay leaf, and braise until soft and liquid has evaporated.
very nice with some crumbled strong english cheese.
borrowed/adapted from here
The most amusing part of all this is that for years I loathed celery AND peppers, but in the last 2-3 years I have come around to liking celery altogether when properly prepared, ie, not in tuna fish salad, and to liking red peppers. I will NEVER EVER like green peppers, except when cooked well to death in olive oil and served with a large spicy italian sausage.
Posted by foodnerd at May 16, 2006 07:12 AM