black raspberries & skyr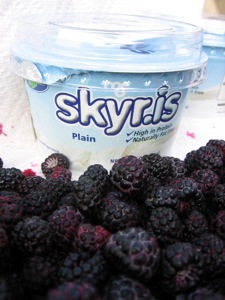 I am happy to report that I took my tray of black raspberries and two tubs of skyr over to my friends V+A's house for dinner, and that skyr slightly sweetened Icelandic style goes really really well with the berries. Whew.
2 tubs + 2-3 tablespoons of sugar was just about right for the 4 of us, and we just sprinkled big piles of berries onto the skyr. And it turns out that skyr is actually fat free, which is truly hard to believe, given the silky creaminess of it all. Skyr is available at my local Whole Foods, and probably at yours too.

Posted by foodnerd at July 13, 2008 02:18 AM