Jack Stack BBQ
Our first night in Kansas City was very hot. Hell, all our nights in Kansas City were very hot, and the days were hotter. Temps near 100, heat indexes nearer to 120. But everyone has central air, or so it seems, and all was entirely well. We waded through the humidity of the lovely 1920's Plaza open-air mall to the cool dark well-appointed confines of Jack Stack's barbecue palace, where we enjoyed the first of much barbecue goodness and drunken shenanigans with our friends.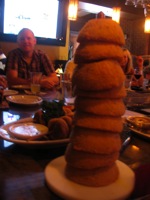 To mute the roar of a glass of bourbon in a weary traveler, we ordered fried mushrooms, a pile of meaty delights with a horseradish cream to dip in, and onion rings, a mighty tower of buhgiant thick rings crusted in herb-livened cornmeal batter. Freaking awesome.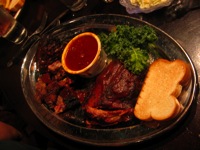 And then came the meat. Bar got KC's Best, a plate of beef burnt ends, pork ribs, and a completely insane 3-inch-tall marbled hunk of soft moist smoky short rib, plus barbecue beans that are probably the best I've ever had, spicy, subtle, not too sweet, and perfectly balanced in flavor.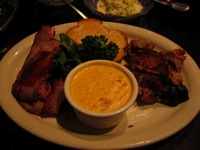 I ordered pork burnt ends and sliced brisket, mostly to round out the samplings given what everyone else was ordering. Both were very good, the brisket a textbook specimen of Texas barbecue (albeit with a KC-style sauce, also excellent and spicier than I expected, given the molasses-y KC sauces you get up north), and the ends smoky but drier than I would like. (Mind you, the leftovers made a noble hash for brunch later in the weekend, chopped and mixed into a pile of potatoes, fried onions, and extra sauce plus some of the hot taco sauce i found in the O's fridge. Yums.) I should have gone with the beef burnt ends, as they were the stated specialty of the house, and distinctly more awesome... or that Crown Short Rib, holy cow, drool.
And do not miss the cheesy corn bake, a ramekin of corn kernels aswim in some loose, creamy cheese sauce and a few cubes of bacon. Hubba hubba. And I have to say, the french fries are excellent here also, perfectly crisp and golden, with creamy insides -- very likely double-fried, just as they should be.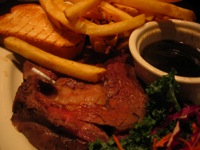 But the true star of this show, I thought, was the hickory smoked prime rib that tallasiandude got. All the soft, melting fatty tenderness of prime rib, with the smoky flavors of slow-barbecued meat. Good lord, that was delicious, and something you don't often see on a menu. Do not miss.
Our lovely hostess D recommended the carrot cake, but we were all so very full of meat that we couldn't possibly eat any, so we got two orders to go. At breakfast the next day we found that she was entirely correct: a dark, very moist, not overly sweet spicy cake with visible carrots, topped with a perfectly sugary cream cheese icing. Exquisite.
nom nom nom nom... yay, barbecue!
Posted by foodnerd at August 6, 2008 09:02 PM