fried clams right next door!
On the way to a friend's house some months ago, we drove down Rt 117 through Weston, and passed a fabulously retro-looking drive-in called Dairy Joy, with a sign out front saying "fried clams & hamburgers."
Say no more.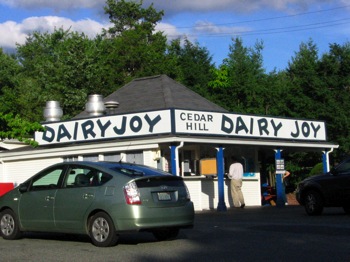 We never got a chance to try it, though, until tonight. It was a perfect evening for it, warm and sunny with a bit of a breeze. We ordered a full fried clam plate with onion rings, a half-plate of fried clams with french fries, a crab cake sandwich, lemonade, diet coke, and a raspberry lime rickey.
This turned out to be a mixed bag. The drinks were horrible -- the fountain coke was nasty, and the rickey was so overpoweringly sweet i couldn't touch it. The crab cake sandwich was a naked cake on a naked bun, without sauce or lettuce or anything, which for $8.95 seems a little stingy.
But the fried clams were *top shelf*, the equal of any I've had -- fresh and sweet and briny, no sand, with a lastingly crisp coating.
The onion rings were coated in the same light batter, which isn't my preferred style for o-rings, but they were fine enough, as were the fries. Sitting on the plate with those gorgeous clams, dipped into tartar sauce or cocktail sauce (both very tasty renditions), they do just fine. The full plate is the better deal, so if you aren't overly-hungry, just get a full plate and share it instead of buying two halves.
Of course, at a place called Dairy Joy, you more or less have to get ice cream for dessert. It's soft-serve only, which is all kinds of old-skool for me, having grown up on the stuff. They have some interesting flavors, and are apparently known for their creamsicle twist and their "javaberry," another twist of raspberry sherbert and coffee ice cream. We tried the javaberry, since my mom & I both love raspberry and coffee flavored stuff. This is actually pretty good, even though the raspberry is a touch too sweet for my taste, because you get flashes of both flavors as you lick your way through that cone, sometimes sweet raspberry, sometimes creamy coffee, sometimes a li'l of both. Next time, though, i think i am going for straight up coffee soft-serve. That stuff's killer.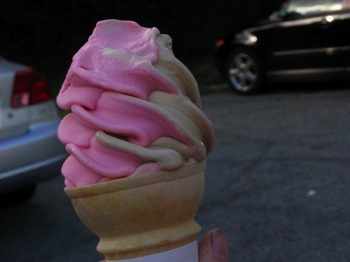 So before you pack the car and drag your ass to the North Shore or Narragansett Bay to get decent fried clams, consider the Dairy Joy, just down the street on Rt. 117... just bring your own beverages.
Posted by foodnerd at
09:11 PM
|
Comments (0)
fabulous indian ice creams -- sadly, not so fabulous after all
hi - sorry for the massive backlog and no posting... there is a TON of good eating that's been going on, but we are only just back from the "honeymoon" travel-thon and then i was sick for a week. That sucked, but i am feeling normal now for the first time in months, so i should be able to start in on the posts shortly.
however.
in the meantime, we were walking down Moody Street this weekend, and stopped into Patel Brothers, and checked out their ice cream selection, and holy moly. Saffron-pistachio. At least 3 distinct varieties of kulfi. Cashew-raisin. And lots more, including some Latin-tropical fruit flavors that appear to be locally produced, if not entirely handmade in someone's kitchen. We couldn't buy any right then, but we are totally going back sometime this week. YUM.

UPDATE: Sadly, ALL of the ice creams we tried were no good. Boo hoo hoo! The saffron pistachio was the best of the lot, and it had so much saffron in it that it tasted like gasoline. Drat. All of them were afflicted with textural problems, as if they'd been melting and refreezing every day for a month, and some of them augmented their ice crystals with a sketchy chalky sort of feeling in the mouth. We tried an Alphonso Mango flavor in the gorgeous fancy packaging, same as the Saffron Pistachio, and even that was strangely flat, which may be the creamier variety of mango (versus the tart kind Americans are used to), but even so it wasn't worth eating again because of the texture issue. The rose flavor in the less-fancy brand was just plain bad and we threw it out on the spot (the others got a reprieve of a few days in the freezer during which we felt no desire to eat them again, whereupon they got the boot as well).
Sadness. Despair. Oh well -- i suppose one can always go to Toscanini's and get perfectly lovely kulfi ice cream, and i bet they would do a saffron-pistachio special order if you were to ask them nicely....
Posted by foodnerd at
12:59 PM
|
Comments (4)